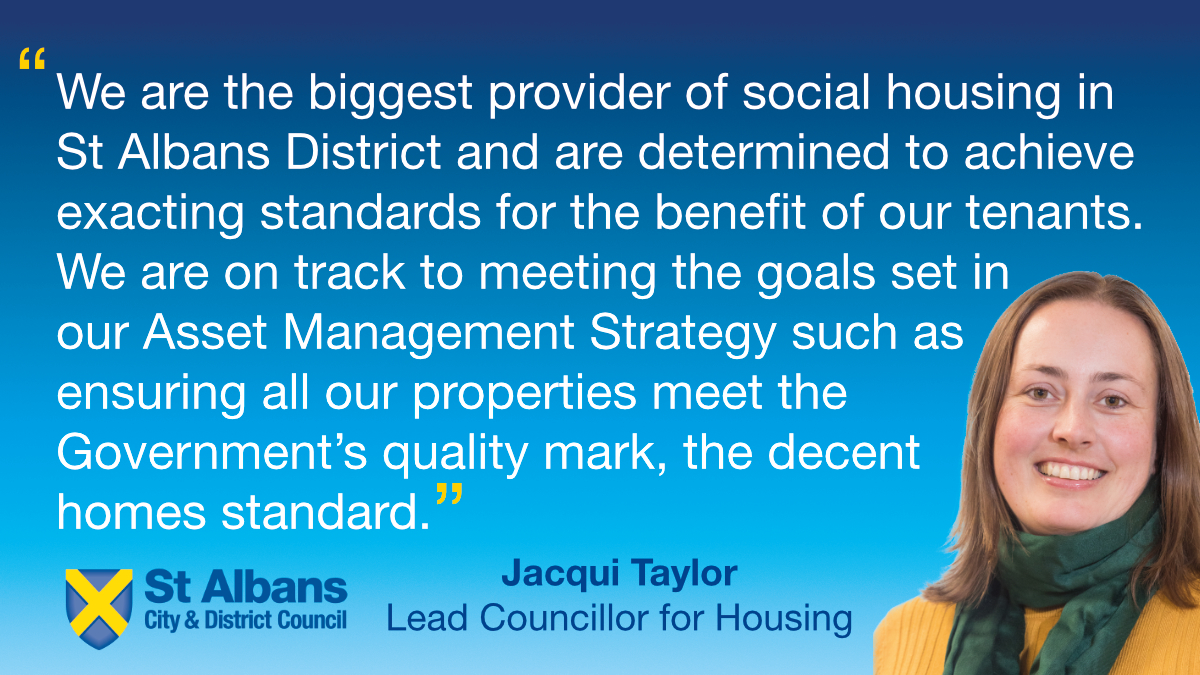 Major progress made in improving social housing and tenant services
Major improvements are being made to the standard, energy efficiency and tenants' experience of social housing owned by St Albans City and District Council.
Among the numerous initiatives undertaken to enhance the Council's 4,900 social rent properties is the adoption of an energy strategy.
This is intended to cut harmful emissions and help the Council achieve its goal of turning the District carbon neutral by 2030.
A report on the improvements was given to a meeting of the Housing and Inclusion Committee on Thursday 7 September.
The work undertaken as part of the Council's Asset Management Strategy includes:
Appointment of a specialist contractor to carry out £18 million of energy-efficiency improvements to 914 homes including insulation and solar panels. This follows the completion of similar work at 181 houses.
Use of innovative technology to remotely record heat, damp and humidity levels following works to properties. This enables the Council to assess the effectiveness of the installed energy-efficiency measures and helps inform tenants of how the to maximise their use. The technology is now in 82 properties with plans to extend to many more homes.
£2.6 million of work to meet the Government's decent home standard including improvements to kitchens, roofs, bathrooms, insulation and other features. Only 117 homes are currently judged to fall below the mark, down from 171 last year.
Improvements to tenants' services with more than 90% of calls to the housing team being answered and dealt with while an online portal for tenants to report and track repairs has been launched
In addition, the Council is committed to:
Undertaking surveys at various housing estates with a view to improving car parking and secure cycle storage.
Identifying homes which have the potential for carbon neutral heating systems such as air source pumps.
Councillor Jacqui Taylor, the Committee's Chair, said after the meeting:
We are the biggest provider of social housing in St Albans District and are determined to achieve exacting standards in all areas for the benefit of our tenants.

We set a programme of improvements for Council homes and whilst recognising there is still much to do, this performance report shows we are on track to meeting the goals set in our Asset Management Strategy such as ensuring all our properties meet the Government's quality mark, the decent homes standard.

We are here to serve our tenants and want their experience of our services to be highly positive. In that regard, I am pleased to see that the vast majority of calls are now being answered promptly by both our housing team and repairs contractor. We know this hasn't always been everyone's experience.

We're also moving rapidly forward with the vital task of achieving carbon neutrality with hundreds of homes to be made more energy efficient in the next two years. The approach we are taking on this also keeps tenants' energy bills lower than they otherwise would be.

Despite the huge financial challenges we are faced with, the Committee felt that we are making solid progress in our efforts to provide social housing of the highest quality.
Contact for the media: John McJannet, Principal Communications Officer: 01727-819533; john.mcjannet@stalbans.gov.uk