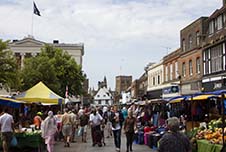 Major progress made in move away from single-use plastic
Major progress is being made to reduce the amount of single-use plastic across the District, Councillors have been told.
Now a series of further actions has been recommended to discourage use of the environmentally-harmful product.
St Albans City and District Council became committed earlier this year to banning single-use plastics at its offices, facilities and events.
A report, detailing progress, has shown that a number of key targets had either been met or were close to being so.
These included the removal of plastic cups from the Council's offices and a ban on Styrofoam from Council-run events.
Styrofoam has also been largely phased out at the Charter Market with only one trader now using it until their current stock runs out.
Traders have also been told that they have until the end of this year to use up any supplies they have of single-use plastics.
Single-use plastics will also be banned from this year's Street Feastival on Sunday 29 September, a celebration of the District's food and drink industry.
The Council's food waste contractor Veolia has arranged to meet with local food businesses to discuss options for recyclable food containers at takeaways.
Details of the initiatives were given to a meeting of the Community, Environment and Sport Scrutiny Committee on Thursday 5 September.
Councillors recommended several other proposals to the Portfolio Holder for Climate and Environment to consider implementing.
They called for an information stall to be set up at the Charter Market to advise traders on alternatives to single-use plastic and the public about how to support the issue in their own homes.
It was also recommended that the Council should work with its partner organisations, including schools and Town and Parish Councils, on measures to further combat the prevalence of the material.
Steps should also be taken to give advice and to continue publicising the issue across the District through the Council's website.
Councillor Annie Brewster, the Committee's Chair, said after the meeting:
I am very impressed by the amount of work that is going on across the City and District to reduce single-use plastics.

In particular, the response of our Charter Market traders has been incredibly positive.  I applaud the enthusiasm with which they have got behind this vitally important issue. We have one of the leading street markets in the country so it is quite right that we can consider ourselves to be trailblazers. On speaking to stallholders, many have already removed or replaced unsuitable products and others are keenly sourcing alternative materials.

The gold star must go to the Eat Whole Foods stall.  For nearly 24 years I understand they have been using cellulose bags for all their products that, unlike normal plastic, break down within 12 months and can be composted in garden bins.  They also offer eco-refill facilities for olive oil, shampoo, conditioner, shower gel, hand wash, toilet cleaner washing up liquid, laundry liquid and fabric conditioner.

However, it is clearly a complex science and the Committee felt that we must not get complacent and continue to seek a number of improvements as well as further promote the issue.

In particular, we would like to see more on our website and an information stall to be set up in the centre of the market, sharing not only the steps the traders have taken but also to help members of the public understand how they can support banning single-use plastic in their own homes.

We want to be known as one of the UK's leading Districts and local authorities when it comes to banning the use or purchase of single-use plastic products and I hope the Portfolio Holder accepts these recommendations so we can look forward to speedy further improvements.
Councillor contact:
Cllr Annie Brewster,
Chair of Community,
Environment and Sport Scrutiny Committee
Tel: 01438 832255, 
Email: cllr.a.brewster@stalbans.gov.uk
Contact for the media: 
John McJannet,
Principal Communications Officer
Tel: 01727 296130
Email: john.mcjannet@stalbans.gov.uk