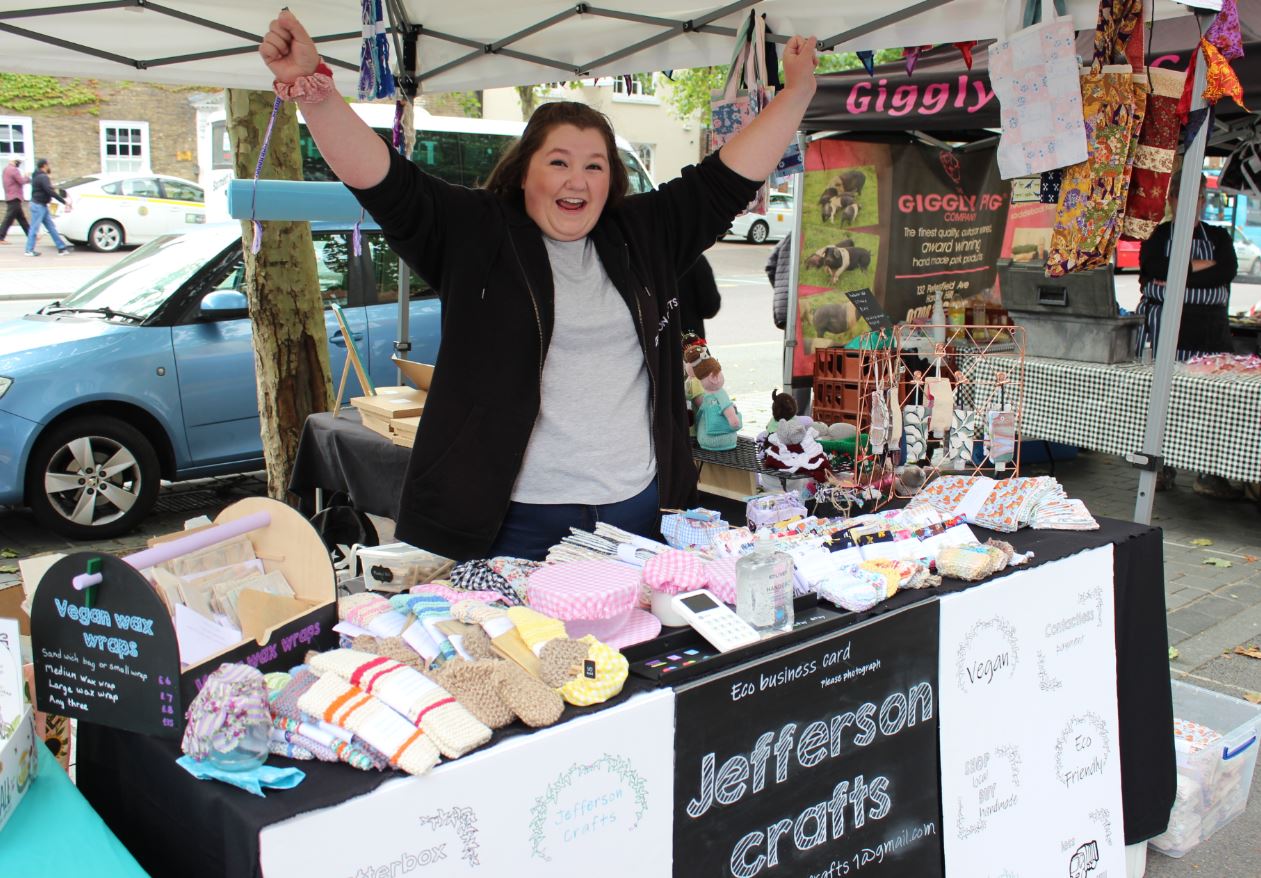 Market trader up for national award
St Albans Charter Market trader Danni Jefferson has won through to the final of a prestigious national award.
She is in the running for the title of Young Market Trader of the Year which is handed out by the National Market Traders' Federation (NMTF).
Danni, 24, set up a stall at the twice-weekly market 18 months ago after being made redundant from her retail job.
Her Jefferson Crafts business has now become an established feature of the Market with a growing number of customers.
She sells eco-friendly products for bathrooms and kitchens that she makes herself at home in Cottonmill, St Albans, from sustainable and reusable materials.
Her range includes wash bags, make-up wipes, towels, bowl covers, dish cloths and soap holders.
Danni will travel to Stratford-upon-Avon this weekend to compete in the socially-distanced final against 50 other traders, aged 16 to 30, for the title.
The winner will receive £500 and the chance to enhance their profile with last year's winner being featured on BBC TV's One Show.
Danni has already won the regional final for London and the South East and said:
I would be over the moon if I landed the national title too.

This business started out as a little sideline, but when I lost my job I threw everything into it, became a regular market trader and have not looked back.

I love the whole experience of working at the market and am committed to making and selling products that are kind to the environment.

It has been tough during the Covid lockdown, of course, but I am very confident Jefferson Crafts will continue to grow as things settle down – and winning the title would be a great boost.
Joe Harrison, the NMTF's Chief Executive Officer, said:
We have a great retail markets industry in the UK, but to make sure they thrive in the years to come we have to bring in new blood - young entrepreneurs with fresh ideas and positive energy.

The pandemic has hit markets heavily, but all the signs are that both indoor and outdoor markets are picking up well, and our Young Trader Market initiative is an ideal boost at this difficult time.
Councillor Mandy McNeil, Portfolio Holder for Business, Tourism and Culture, said:
I will be going to the final to cheer on Danni.

She is a wonderful example of the opportunities that our Charter Market can give to young, local entrepreneurs who want to set up their own business. She has given it a go and made a huge success of it.

This is the second major award that the Market has been shortlisted for in recent weeks. We have also been nominated for the title of the UK's Best Food Market 2020 at the Great British Food Awards.

This is recognition that we have a really outstanding market that we can be truly proud of.
Councillor contact:  
Mandy McNeil, Portfolio Holder for Business,
Tourism and Culture
Email: cllr.m.mcneil@councillor.stalbans.gov.uk
Tel: 07584-198999.
Contact for the media:
John McJannet, Principal Communications Officer: 01727 819533, john.mcjannet@stalbans.gov.uk.