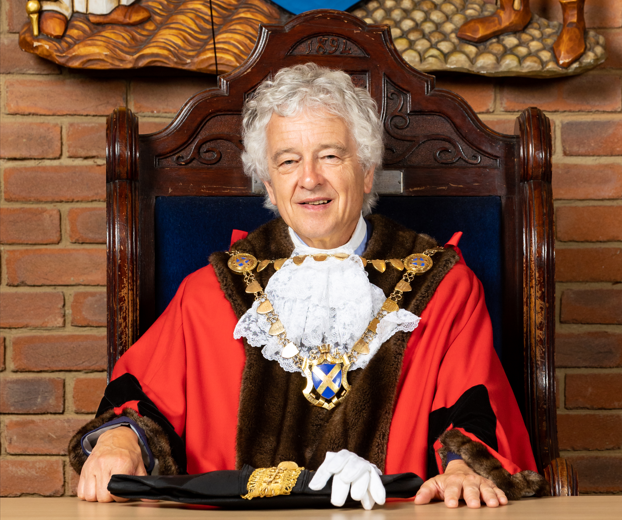 Mayor announces his charity for the year – the St Albans Fund for the Future
St Albans Mayor Anthony Rowlands has announced his charity for the year – the St Albans Fund for the Future.
The Fund, managed by Hertfordshire Community Foundation (HCF), distributes grants to smaller charities and community groups within the District. 
Councillor Rowlands will raise money for the Fund during his year of office which is due to end in May next year.
Cllr Rowlands, Mayor of St Albans City and District, said:
We wanted to identify a charity which complements our Mayoral theme – All Ages Together. We are encouraging local organisations to identify ways of working which enable the generations to support each other to tackle isolation and loneliness.

There are obvious links with the vision which underpins the St Albans Fund for the Future.

The Fund was established by my friend and former ward colleague John Peters who served as Mayor in 2001-2002.

Awards have been made to organisations working with people who are excluded or disadvantaged by low income, rural or social isolation, age, health, disability, race, sexuality or gender. This was a far sighted and hugely practical approach and very much mirrors John's dedication to the long-term well-being of everyone living in our City and District.

It has also been typical of John that in the years since his Mayoralty, he has continued to find ways of building the Fund. Remarkably, grant making from the Fund is now about £25,000 annually.

Working with John and his family and grant making charity Hertfordshire Community Foundation, which administers and manages the Fund, we have now committed to raising money for the Fund.

Going forward it will be open to local organisations initiating intergenerational work to bid for one off grants with the hope that, later, they will plan further ahead and apply for multi-year grants.

We will be holding major fundraising events in the Autumn and Spring for the Fund. We will also be appealing to local people, as John did over 20 years ago, to commit to regular giving by standing order pledges.
Paul Robin, HCF's Chief Executive Officer, said:
In these challenging times, an increasing number of charitable organisations and community groups face significant hurdles in securing the funding necessary to sustain their vital activities.

For the past 22 years, HCF has successfully overseen the St Albans Fund for the Future, supporting numerous small charities within St Albans District. We fully support the St Albans Mayor's commendable endeavours to raise essential funding, empowering this fund to positively impact an even greater number of individuals within our community.
Anyone wanting to make regular contributions to the Mayor's appeal can do so here.
Media contact: John McJannet, Principal Communications Officer: 01727 819533, john.mcjannet@stalbans.gov.uk.
Note to Editors: Hertfordshire Community Foundation is an independent charity that encourages local giving. Donations received are turned into grants to support grassroots charities and voluntary groups working to improve the lives of vulnerable people and create stronger local communities in Hertfordshire. Every penny raised stays within the county.
Since inception in 1988, HCF has awarded over £25 million in grant aid support to local communities. HCF currently manages over 100 charitable funds on behalf of individuals, families, companies and other organisations.
 During 2021/2022 over £3.8m was awarded in grant aid to charitable groups working to tackle identified need in Hertfordshire and make Hertfordshire a better place to live, for everyone.