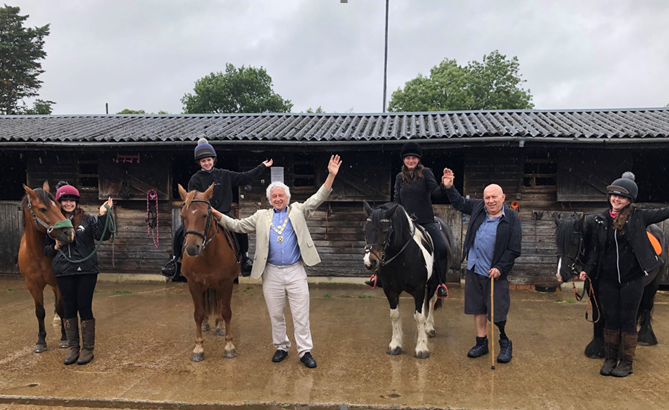 Mayor praises four young charity fund raisers
Four riding school pupils have been praised for raising funds for research into a rare illness.
The Mayor of St Albans City and District, Councillor Anthony Rowlands, presented each of the girls with a certificate to mark their achievement.
Charlotte Andres, Ruby Nash, Lucy Malin and Eva Wright completed a marathon 250 jumps with their horses at the Chiswell Green Riding School which they attend.
The girls, aged 12 to 15, carried out the sponsored jumps in aid of the charity Sarcoidosis UK.
Sarcoidosis is an incurable condition where lumps called granulomas develop at different sites of the body and can prevent an organ from working properly.
It often affects the lungs but can also affect the skin, eyes, joints, nervous system, heart and other parts of the body.
Mayor Rowlands visited the riding school stables and met the young fund raisers before handing them their certificates.
He said:
Their way of raising money by doing 250 jumps was really quite novel and impressive.

Lucy's grandfather, Alan Malin, has the disease and has led the Hertfordshire Support Group which provides advice to people with the disease and campaigns to raise awareness as well as funds to find a cure. 

Metaphorically crossing the generations, congratulations are due to the girls for converting concern into leaping action and Alan for his unstinting work on behalf of others.