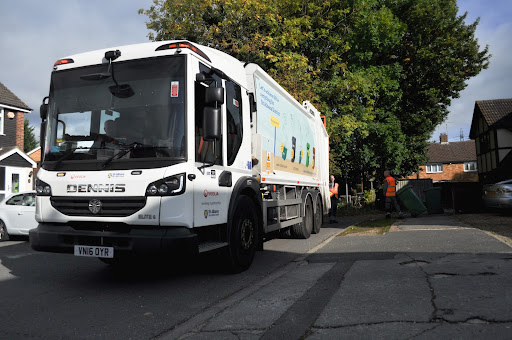 Measures taken to minimise disruption to waste and recycling collections
A range of measures have been taken to minimise disruption to waste and recycling collections in St Albans District caused by a surge in COVID-related absences.
Services nationwide are being impacted by staff sickness and isolation as well as a longstanding shortage of HGV drivers.
This has happened during the busiest time of the year, the aftermath of the festive season when exceptionally high amounts of material are put out for collection.
The District's collection crews are making more trips than normal to unload at reprocessing plants and tips. To add to the difficulties, there have been unusually long waits at these sites.
These issues have caused delays in some streets of mixed recycling collections - that is the black wheeled bins and some other containers.
St Albans City and District Council was recently crowned the best recycling authority in the whole of England.
Its recycling  rate – as measured by weight – rose to 64.2% in 2020/21. This was the highest of England's 338 local authorities with the national average being 42.3%.
Councillor Anthony Rowlands, Chair of the Public Realm Committee, said:
We want to retain our top-of-the-table position and have been working flat out with our contractor Veolia to deal with the extraordinary challenges.

Our residents have helped us become England's top recycler and I ask them to continue to sort and separate their waste as we strive to provide the best possible service.
Among actions taken by Veolia to maintain services are the temporary deployment of office-bound staff, including managers and supervisors, to the "front line" to work alongside crews.
Crews agreed to work recent Bank Holidays as well as Saturdays throughout January while an extra crew was recruited for the post-festive period.
Updates to inform residents of any delays have been posted nightly on the Council's website.
Collections of food waste, non-recyclable waste and garden material have been largely unaffected despite the difficulties.
Cllr Rowlands added:
The aftermath of the festive season is always challenging for our waste contractor because of the extra amount of material that is generated.

Staff shortages due to COVID and unexpectedly high wait times for vehicles offloading have added to the pressure.

We've been working in partnership with Veolia to keep disruption to a minimum and appreciate the efforts that have been made in that regard.

I know other local authorities, encountering similar problems, have had to suspend collections, but we have avoided such drastic action and have kept disruption to a minimum.
Councillor contact: Councillor Anthony Rowlands, Chair of the Public Realm Committee, cllr.a.rowlands@stalbans.gov.uk, 07761 232064.
Media contact: John McJannet, Principal Communications Officer, St Albans City District Council: 01727-819533,  john.mcjannet@stalbans.gov.uk.