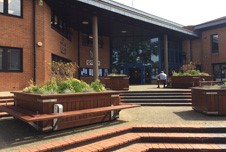 Missing out on a Council Tax discount?
Vulnerable people who have been diagnosed as 'severely mentally impaired' may be missing out on a discount on their Council Tax.
People who have been medically certified as having a severe mental impairment do not have to pay Council Tax if they are living on their own.
If they are living in a two-person household with another adult they may qualify for a 25 per cent discount.
The term 'severe mental impairment' covers a range of illnesses and conditions, such as Parkinson's Disease and Alzheimer's Disease, as well as learning difficulties.
Research recently undertaken by MoneySavingExpert.com has suggested that some people who are eligible are not claiming the discount or exemption.
St Albans City and District Council is taking steps to help raise awareness of the Council Tax exemption and discount. It is planning training for Council Tax and Customer Services Teams to help them identify potential claimants. The Council Tax discount and exemption will also be promoted in Community News and flagged up in Council Tax bills that are issued next year.
Cllr Alec Campbell, Portfolio Holder for Resources and Leader of St Albans City and District Council, said: "Some people may not realise that they or a family member are eligible for a discount or exemption from Council Tax on grounds of severe mental impairment. For example, a person may have recently been diagnosed with permanent dementia and they or their carer may not be aware of the discount. It is important that the Council is proactive as possible in raising awareness of the discounts among the vulnerable and their carers and families." 
In St Albans District, there are currently 305 people who are exempt from paying Council Tax due to a severe mental impairment. This equates to 0.51 per cent of properties in the District where Council Tax is potentially payable.
To claim for this discount or exemption, the person must be certified by a doctor as having a severe mental impairment. They must also be eligible for at least one benefit such as attendance allowance or disability living allowance.
If you believe you are entitled to a discount or exemption, please email Contact us via your MyStAlbans account. 
There are a range of circumstances where an exemption from Council Tax or a discount may apply. Qualifying criteria for an exemption from Council Tax are set out on the Council's website as well as information about Council Tax discounts is also available.
Councillor contact:
Cllr Alec Campbell, Portfolio Holder for Resources and Leader of St Albans City and District Council
Mob: 07793 550200
Email: cllr.a.campbell@stalbans.gov.uk
Contact for the media:
Amanda Wilkinson,
Media and Internal Communications Officer
St Albans City and District Council
Tel: 01727 819317
E-mail: amanda.wilkinson@stalbans.gov.uk
www.stalbans.gov.uk
Follow us on Twitter: http://twitter.com/StAlbansCouncil