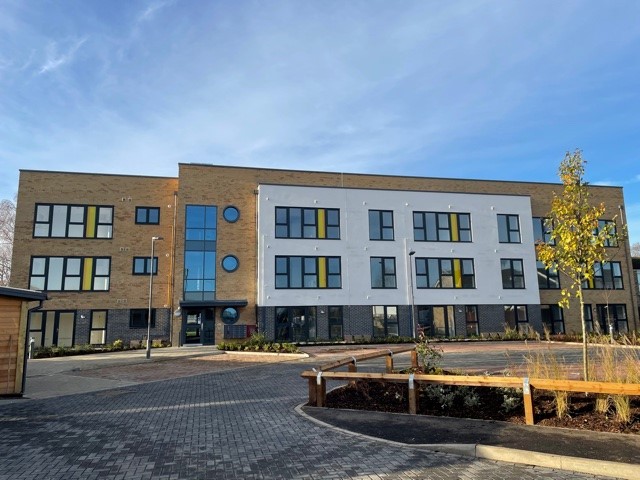 More Council homes delivered
An ageing sheltered housing block in St Albans has been transformed with the first new tenants due to move in by Christmas.
Wavell House, in Cell Barnes Lane, was demolished and 24 new homes for over-55s were built on the site. The block has been renamed Warner House.
St Albans City and District Council's £4.8 million project was supported by a £720,000 Homes England grant and will provide 12 two-bedroom and 12 one-bedroom social rent properties.
The building has also been fitted with an environmentally-friendly green or living roof.
Building contractor Jarvis, a construction company based in Harpenden, handed over the site last week.
Some of the new occupants will be existing Council tenants who have decided to downsize, freeing up their homes for larger sized households who may currently be in overcrowded accommodation.
The Council has an incentive scheme to help people who wish to downsize to a more manageable home. There are grants of up to £1,950 available.
Any remaining flats will go to people on the Council's Housing Register who have been waiting for a new home.
Councillor Jacqui Taylor, Portfolio Holder for Housing, Inclusion and Protection, said:
It is fantastic news that, despite the impact of COVID-19, we are completing developments to provide the new social rent homes that people need.

We are hoping that most of the new tenants will be able to move in by Christmas, giving them a festive season to remember.

The delivery of more social housing is one of the Council's major priorities and this is yet another example of our determination to fulfil that objective.

We are committed to providing more high-quality homes for people in housing need and have more in the pipeline in Batchwood, Harpenden and Sopwell. We also continue to look for more sites where we can build homes.
The development is part of an ambitious programme by the Council to repurpose housing blocks that have reached the end of their life to improve the quality of housing available in the District.
Linley Court, in Valley Road, was transferred to Catalyst housing association and converted into 28 properties at social rent and renamed Hawking's House. It is one of the first to be delivered with infrastructure in place for electric vehicle charging.
Betty Entwistle House, in Holyrood Crescent, was demolished and the housing association bpha built 40 supported-living homes for social rent and shared ownership, mixed throughout the development. The property was renamed Eywood House.
The Council retained the right to nominate tenants from its housing register for both Hawking's and Eywood.
Mereden Court in Tavistock Avenue, Sopwell, is being transformed to provide 18 social rent homes. It will be called Hawksley Court.
Its £3.2 million conversion is supported by a £540,000 Homes England grant and is also due to complete within the next few weeks.
Homes England was founded in January 2018 to help fund affordable housing across the country.
Anyone interested in the Council's Tenants' Incentive Scheme for downsizing can register on www.stalbanshomechoice.co.uk or telephone the Housing Options team on 01727 819355.
Picture: Warner House.
Councillor contact:
Councillor Jacqui Taylor,
Portfolio Holder for Housing,
Inclusion and Protection
Email: cllr.j.taylor@stalbans.gov.uk
Tel: 07971 906343.
Contact for the media: 
John McJannet,
Principal Communications Officer
Tel: 01727 819533
Email: john.mcjannet@stalbans.gov.uk.