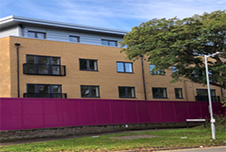 More social housing created
A former sheltered housing block in St Albans has been transformed into 28 social-rent flats with features to encourage sustainable transport.
Catalyst housing association has finished the redevelopment of Linley Court, in Valley Road.
St Albans City and District Council transferred ownership of the property to Catalyst two years ago as it reached the end of its life.
As part of the arrangement, all of the new residents will come from the Council's housing register waiting list and will move in over the next few weeks.
The block has been renamed Hawking's House to honour renowned physicist Stephen Hawking who spent some of his schooldays in St Albans. 
In line with the Council's commitment to tackle the climate emergency, the block has new features to encourage residents to opt for green transport. 
These include secure bicycle storage racks and charging points for electric vehicles.
Councillor Chris White, the Council Leader, said:
The creation of more much-needed social housing for the District is one of our major priorities along with tackling climate change, improving community facilities and making the Council more business friendly.

Hawking's House will provide more social-rent homes of excellent quality to a range of people on our housing register waiting list.

This shows our commitment to taking action to provide much more social housing for our residents. We are also progressing with a number of other developments in St Albans, London Colney and Harpenden.

This year, we will be looking to make a major step change by becoming a large-scale developer of social housing. We believe that move is required to achieve our ambitions to build more properties.
Philip Jenkins, Catalyst's Group Development Director, said:
Hawking's House is an excellent example of a local authority and a housing association working in partnership to deliver sustainable, new-build affordable homes for those that need them most. 

This project is Catalyst's first development in St Albans since 2013, and we're especially proud to support the Council to provide quality social housing to the City and excited to welcome our new customers into their new homes.
In a separate initiative, work is well underway on the £3.2 million redevelopment of Mereden Court, in Tavistock Avenue, another Council-owned block.
It is being refurbished by the Council to create 18 new flats for social rent with work due to be completed in the summer.
Among its eco-friendly features are solar panels to provide a source of renewable energy and equipment to harvest rainwater.
New sanitation techniques are being used to reduce water use and charging points for electric vehicles will be installed.
Homes England provided a £540,000 grant to help with the creation of the 14 one-bedroom and four two-bedroom flats.
Work at the former site of Wavell House, in Cell Barnes Lanes is also scheduled to finish this summer. 
It is being demolished, rebuilt and renamed Warner House and will have 24 flats for the over-55s. Homes England provided a £720,000 grant.
This building is to be fitted with a green roof where plants and other vegetation can grow. Internal windows are to be installed to reduce the need for artificial lighting.
There is also to be extensive planting of new trees in the grounds and bicycle storage while charging points for electric vehicles are being considered.
---
Councillor contact:
Councillor Chris White, Leader and Portfolio Holder for Climate and the Environment for St Albans City and District Council: cllr.c.white@stalbans.gov.uk, 01727 845300.
Media contact:
John McJannet, Principal Communications Officer, St Albans City and District Council: 01727 819533, john.mcjannet@stalbans.gov.uk.