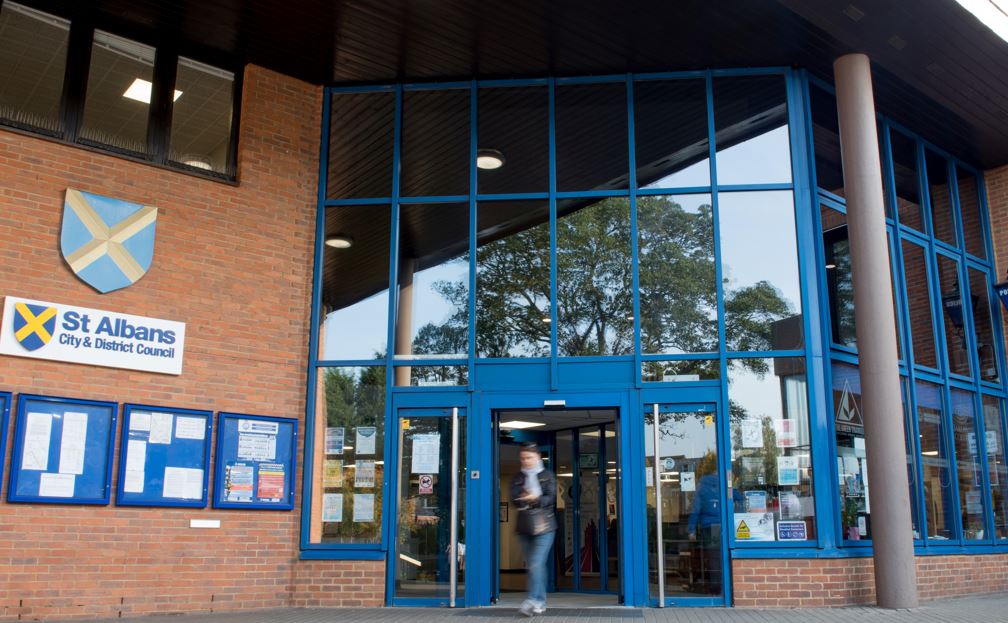 New homelessness strategy for St Albans District
A new homelessness strategy for St Albans District has been produced to further improve the support offered to people without a permanent home.
It sets out plans for ensuring accommodation and support are available for people who become homeless or who are at risk of doing so.
In 2020-21, there were 798 approaches for homeless assistance and advice to St Albans City and District Council's housing department.
Of these enquires, 200 were from people who had been asked to leave their family home, 90 were from people fleeing domestic abuse and 79 were due to a relationship breakdown.
A further 49 were from people leaving prison, 39 were from rough sleepers and 34 were from sofa surfers.
The strategy has five pledges including commitments to eradicate rough sleeping in the District, improve services for people fleeing domestic abuse and enhance relations with the private-rented sector.
It also includes the actions that will be undertaken to achieve these goals such as continuing to fund an outreach worker to maintain contact with rough sleepers and providing them with extra beds during the winter months.
The strategy was adopted by St Albans City and District Council's Housing and Inclusion Committee at its meeting on Thursday 18 November
It was developed through consultation with partners from St Albans District Homeless Forum including Open Door Night Shelter, Hightown Housing Association, Herts Young Homeless and Emmaus.
Councillor Jacqui Taylor, Chair of the Housing and Inclusion Committee, said after the meeting:
Tackling homelessness and eradicating rough sleeping in the District are among our main priorities.

We have been improving our services in this area year on year and rose to the formidable challenges posed by the pandemic by taking an active role in the nationwide Everyone In campaign to get vulnerable people off the streets.

We'll pursue our ambitions to end rough sleeping and continue to intervene to help those at risk of experiencing homelessness. The adoption of this revised homeless strategy provides us with the way forward over the next three years.

We are fortunate in that we do not to have a high number of rough sleepers compared to some other districts, but it is still a vitally important issue for us.

Our draft strategy has at its core a number of pledges that will guide our future work on all aspects of homelessness.

It commits our housing team to taking numerous actions in the years ahead to achieve our goals by, for example, offering greater assistance to domestic abuse victims.
The Council will be announcing its annual Winter Beds programme shortly. This is a project delivered with other organisations to provide extra beds during cold weather to ensure no one needs to sleep rough.
Councillor Taylor added:
The relationship we have with our partner organisations is key to tackling the issue of homelessness in the District.

The charities, faith groups and housing associations provide outstanding service to vulnerable people within our community and I am proud of the way we work closely with them through the Housing Forum and the Rough Sleeping Steering Group.

We are now working with them to finalise our preparation for the challenging winter months.
In recent months, the Council has undertaken a number of initiatives to help support people who are homeless or at risk of becoming so. These include:
Taking 31 rough sleepers off the streets during the COVID-19 pandemic as part of the nationwide Everyone In campaign. Extra Government funding was obtained for this programme to protect some of society's most vulnerable people from the virus.
Turning the role of Specialist Homelessness Advisor from part to full time to strengthen the outreach service offered by the Council in partnership with Open Door. The advisor's role is to make direct contact with rough sleepers and inform them of the services available to put them on a different pathway.
Continuing work on the Housing First programme that takes an interventionist approach to rough sleeping by recognising that a home is fundamental to a person's life and wellbeing.
Councillor Contact: Councillor Jacqui Taylor, Chair of the Housing and Inclusion Committee: cllr.j.taylor@stalbans.gov.uk; 07971 906343.
Media contact:  John McJannet, Principal Communications Officer: 01727- 819533; john.mcjannet@stalbans.gov.uk.