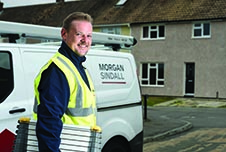 New housing repairs contract
A new housing repairs contract worth up to £90 million aims to make major improvements to the service for tenants of St Albans City and District Council.
Morgan Sindall Property Services has been awarded a five-year deal covering the Council's 4,800 homes following a rigorous tendering process.
The company will now be responsible for essential building work to all the Council's rented flats and houses.
Among other improvements, tenants will be able to report concerns via mobile phone directly to the contractor. This will lead to shorter response times.
They will also be able to choose a convenient date and time for a repair visit so they will be at home and dealt with quickly. At the moment, the contractor sets the visit date and may sometimes turn up to find the tenant is absent.
There is also an out-of-hours emergency response available to deal with major incidents such as a flood.
Tenants will eventually be able to track the progress of an inquiry online, an innovation that is scheduled for next year.
The contract will start from the beginning of April with an option to extend it for a further ten years. Its value over the full 15 years would be around £90 million. 
Officers began a review of the service 18 months ago and decided to opt for an innovative price-per-property contract.
This means that the Council will no longer be charged a fee for each time a repair is carried out. Instead, it will pay a fixed price for each property every year regardless of whether repairs are made or not. 
Around 12,000 repairs are carried out every year at individual properties and communal areas.
To ensure the work is carried out properly, there will be a quota of inspections and a satisfaction survey will be sent to each tenant, usually straight to their mobile phone
The contract with Morgan Sindall also includes planned maintenance and work on some other building projects as well as the management of empty properties and Council-owned garages.
It will allow the Council to plan for future years while being certain about the cost of its repair bills.
Councillor Brian Ellis, Portfolio Holder for Housing and Inclusion, said:  
This is a multi-million pound contract, one of the biggest and most important that the Council awards.

Tenants will see a marked improvement in the service. For example, they will be able to report any concerns immediately on their mobile phone and choose the date of a visit.

We will also be able to look ahead and make decisions while knowing exactly what our budget for repair and maintenance needs to be.

Morgan Sindall is a large construction and regeneration group that already has good working relations with the Council. Another Morgan Sindall company is currently completing, as our contractor, a small housing estate of ten new properties on the site of the former St Albans Museum. 

As our new repairs and maintenance contractor, their experience and expertise should result in some financial savings for the Council and a better service for our tenants.
Alan Hayward, Managing Director of Morgan Sindall Property Services said "We are very pleased to have won this contract and look forward to working with St Albans City and District Council and their residents in the years ahead.
I am confident that we are equipped to provide an outstanding repairs and maintenance service, using our technology platform and data to help inform planned investment decisions and deliver on our social value commitments that will open up numerous opportunities for local people.
To find out more about the company, see: www.morgansindallpropertyserivces.com.
The contract is separate from the Council's £1 million a year programme of upgrading to more energy-efficient boilers and central heating systems at its properties.
Councillor contact:
Cllr Brian Ellis,
Portfolio Holder for Housing and Inclusion for St Albans City and District Council
Tel: 01582 767621
Email: cllr.b.ellis@stalbans.gov.uk
Media contact:
John McJannet,
Principal Communications Officer,
St Albans City and District Council
Tel: 01727-296130
Email: john.mcjannet@stalbans.gov.uk