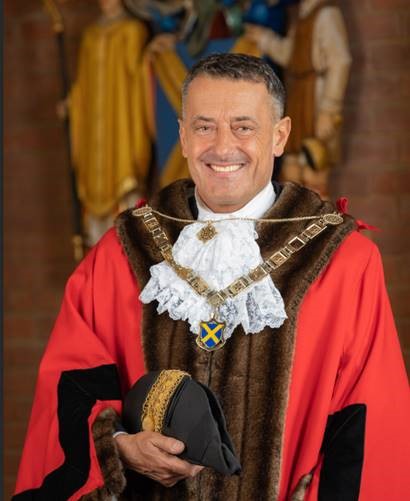 New Mayor for St Albans City and District
Councillor Edgar Hill has been elected the new Mayor of the City and District of St Albans – choosing Youth Talk as his charity for the year.
He was made Mayor for 2021/22 at the Annual Meeting of  the Council following the Thursday 6 May elections.
Cllr Hill, who succeeds Janet Smith, has been a District Councillor since 2014 and becomes the City's 477th Mayor with the first having been appointed in 1553.
He will chair Full Council meetings and represent the City at a variety of events, often involving voluntary and charity groups. 
His deputy for his year in office is Cllr Helen Campbell who was first elected to the Council in 2018.
Youth Talk provides free and confidential counselling to young people aged 13 to 25 across the District.
Cllr Hill said:
I'm delighted to have been elected Mayor and am looking forward to supporting our voluntary groups, charities, businesses and the community as a whole as we recover from this terrible pandemic.

Life is starting to return to normal, but this is still going to be a very challenging year for the District.

Young people have suffered more than most during the public health emergency with education and work so badly disrupted. Their mental wellbeing is a major concern, so I will be raising funds for Youth Talk which does so much to help our young people cope with the pressures that they face.
During the Annual Meeting, the Council agreed to change its structure. Key decisions will no longer be taken by a Cabinet of leading Councillors, but by Committees involving Councillors from all parties.
Councillor Chris White was elected Leader of the Council and will also Chair the Policy Committee.
Cllr Anthony Rowlands will Chair the Public Realm Committee, Cllr Jacqui Taylor will Chair the Housing and Inclusion Committee and Cllr Robert Donald will Chair the Regeneration and Business Committee.
They will also be Lead Councillors as will Cllr Karen Young, Vice Chair of the Policy Committee, and Cllr Mandy McNeil, Vice Chair of the Business and Regeneration Committee.
Lead Councillors will sit on the Policy Committee and help shape the Council's policies.  While they have no individual decision-making powers, they will be consulted on some of the decisions which are taken by Council staff.
Edgar Hill
Cllr Hill was born to an Italian mother and English father and was brought up in Milan and Radlett.
He eventually settled in Hertfordshire and completed his secondary education at Queens' School, Bushey.
After leaving school,  he went into financial services and has now worked in the industry in various roles for 40 years.
He has lived in St Albans for 12 years and has put down roots in the community, having a son and two daughters.
As a Councillor, he has taken a special interest in planning issues as he represents a ward, Verulam, that includes a conservation zone.
Fluent in Italian and French, he is also a keen sportsman – a golfer, skier and tennis player. He also plays darts for the Farriers Arms in Lower Dagnall Street.
Helen Campbell
Helen Campbell is in her fourth year as a District Councillor for the Marshalswick South Ward and is also a County Councillor.
Married with two children - a son studying at university and a daughter who has just finished her A-levels - she was brought up in Northamptonshire and has lived in St Albans for 20 years.
She studied languages at Sheffield University before going into business journalism, specialising in energy, shipping and commodities.
Her work has taken her to Russia, Azerbaijan, Georgia, the Middle East and many European countries, and included survival training and helicopter trips to offshore installations.
She qualified during lockdown last year as a teacher of English as a second language and hopes to teach English to refugees, fitting this around her writing and Council work.

Before COVID hit, Helen had volunteered at homeless charity Centre 33 for over five years, and has been cooking fortnightly at the Open Door night shelter for the past several months.
Pictures: The Mayor, Cllr Edgar Hill, top; Deputy Mayor, Cllr Helen Campbell, bottom.
Contact for the Mayor's office: 
Alison Orde,
the Mayor's Civic Officer 
Tel: 01727 819544 
Email: mayoralty@stalbans.gov.uk
Contact for the media:
John McJannet, Principal Communications Officer, 01727-819533,  john.mcjannet@stalbans.gov.uk.