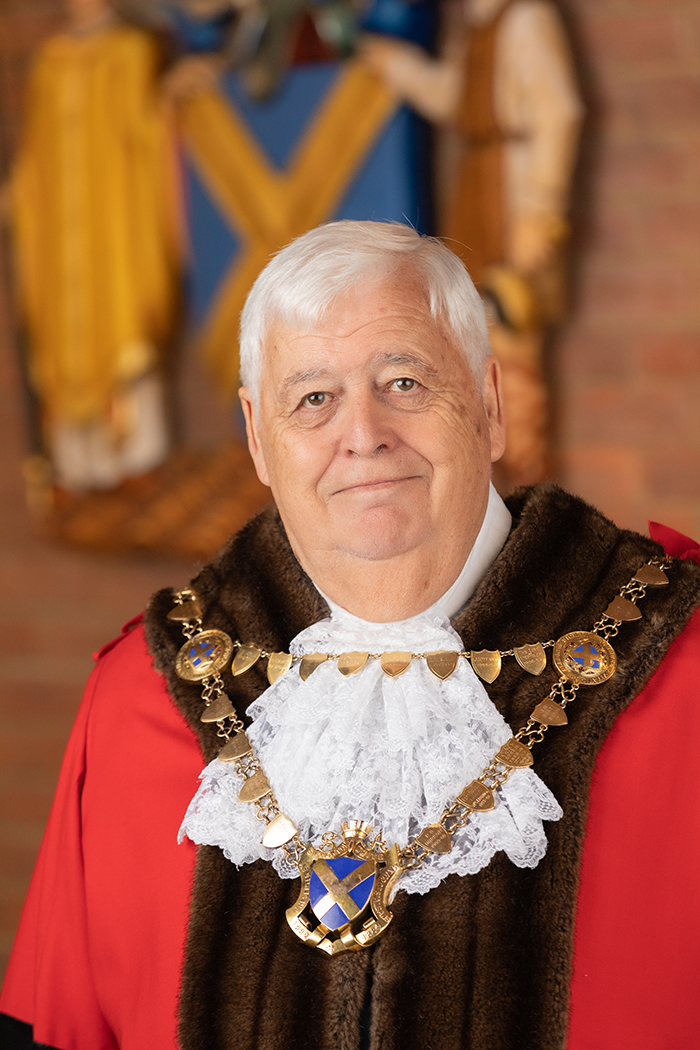 The new Mayor of St Albans – Councillor Geoff Harrison
Councillor Geoff Harrison has been elected the new Mayor of the City and District of St Albans – and has chosen St Albans for Refugees as his charity for the year.
He was made Mayor for 2022/23 at the Annual Meeting of the Council following the Thursday 5 May elections.
Cllr Harrison, who succeeds Cllr Edgar Hill, has been a District Councillor for 22 years and becomes the City's 478th Mayor with the first having been appointed in 1553.
He will chair Full Council meetings and represent the City at a variety of events, often involving voluntary and charity groups. 
His deputy for his year in office is Cllr Syed Abidi.
Cllr Harrison said:
I'm delighted and proud to have been elected Mayor for the second time while serving on the Council.

I am looking forward to supporting the District's voluntary groups, charities, businesses and the community as a whole during these challenging times as we recover from the pandemic and deal with a cost of living crisis.

I've chosen St Albans for Refugees as my charity and will be fundraising for them throughout the year. They have done a tremendous amount of work to welcome Syrian refugees to our District, helping them settle into a new way of life.

They are now using that experience to aid Ukrainian refugees fleeing the current conflict and I want to show our appreciation for that effort by raising some much-needed funds.
Mayor Geoff Harrison
Cllr Harrison, who was Mayor in 2014/15,  has lived in St Albans since 1994 and was a sales engineer before working for supermarkets in various roles.
He has done voluntary work for a number of local organisations including the Centre for Voluntary Service, Pioneer Youth Club and Highfield Park Trust.
In his spare time Cllr Harrison is an active member of the Rotary Club of St Albans Verulamium and the Probus Club.
He was a keen walker and has led tours in Snowdonia, the Lake District, the Scottish Highlands, the Alps and the White Mountains in the USA. He is also a supporter St Albans City FC.
Deputy Mayor Syed Abidi
Cllr Abidi was born in Lucknow, Northern India, where he  gained an MSc degree in Chemistry before moving abroad.
After settling in the UK, he worked for three decades in various Government departments including the Treasury, Foreign Office and in No 10 Downing Street.
He has held  various overseas postings including an assignment to the UN's HQ in New York.
Cllr Abidi has lived with his family in Park Street for over 30 years and had a spell as a District Councillor in the 1990s before work commitments required him to stand down. Having taken early retirement, he became a Councillor again in 2019
He is a passionate cricket fan, a member of Middlesex County Cricket Club and follows England as part of the supporters' group known as the Barmy Army.
Contact for the Mayor's office: Alison Orde, the Mayor's Civic Officer, 01727 819544,  mayoralty@stalbans.gov.uk.
Contact for the media: John McJannet, Principal Communications Officer, 01727-819533,  john.mcjannet@stalbans.gov.uk.