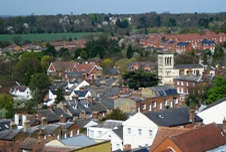 New weed treatment programme to start this month
A new programme for clearing weeds from roads and pavements in the St Albans District will start this month – and residents can keep an eye on the results.
People can check on a new webpage what streets are due to be treated and when the work is due to go ahead.
It will take around four weeks for the weeds to perish after being sprayed and they will then be removed by street cleaners.
After that, residents will be able to see for themselves if the clean-up has been successful.
The programme is being undertaken by St Albans City and District Council to improve the look of neighbourhoods particularly during the growth seasons of spring and summer.
It follows concern that weeds were being allowed to grow unchecked in some areas.
The webpage including maps and a weather-dependent timetable for the programme can be found on: bit.ly/2GCHAmc.(link content no longer available due to retirement of former website)
An update on the project is to be given to a meeting of the Council's Cabinet on Thursday 26 April.
The Council has taken over the responsibility for weeds management across the District from Hertfordshire County Council (HCC), the highway authority.
HCC agreed to devolve its legal duty and associated funding to the District Council for a trial period of a year.
As part of the new programme, the District Council will continue to cover all the built-up areas that HCC concentrated on. 
Some rural roads which have not been treated for several years will be given a "deep clean".
Weed treatment will also be better co-ordinated with street sweeping contractor Veolia to make sure any detritus is removed quickly.
The frequency of treatment will also increase from two to three times a year where necessary.
The District Council and HCC will monitor the impact of the new weeds management programme until March next year and take on board feedback.
It will continue with the new arrangements if they are judged to be a success. If the project does not meet expectations, responsibility for weeds will revert back to HCC.
Joe Tavernier, Head of Community Services for the District Council, said:
We want the District to look as good as possible and our new weed treatment programme will help do that.

It is a response to some complaints we have had over the past couple of summers about unsightly weed growth on pavements and roads.

As the District Council, we pick up on these local issues and we now have the responsibility to do something about it.

We believe the new programme will be a major improvement and I would encourage residents to follow our progress by keeping an eye on our webpage.
Contact for the media:
John McJannet, Principal Communications Officer, St Albans City & District Council
Tel: 01727 296130; e-mail: john.mcjannet@stalbans.gov.uk