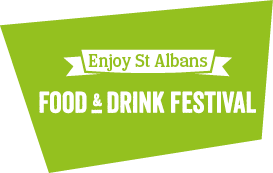 Nominate your Food and Drink hero
St Albans District's Food and Drink Festival is returning for its 14th year – and residents are urged to nominate a community hero for one outstanding award.
The awards for the District's best food and drink businesses are one of the annual Festival's main highlights.
However, with the COVID pandemic having disrupted the hospitality industry over the last year, it has been decided to suspend all but one of them.
The remaining one is the Kate D'Arcy Award for an individual who has given exceptional customer service.
People are asked this year to put forward someone who has gone out of their way to help the community during the public health emergency.
This may be a publican who created a safe community hub, for example, or a restaurant manager who delivered meals for the homeless or NHS staff free of charge.
To nominate someone from the District's food and drink industry for the award, please go to https://stalbans.force.com/guest/s/nominations.
You will have to fill in a simple form that will only take a couple of minutes.
Nominations close on Monday 23 August with the Food and Drink Festival Steering Committee meeting shortly after to decide on a winner.
All verified nominees, along with those nominated last year and recognised in our COVID  Food Heroes broadcast on Radio Verulam, will be invited to a presentation  event on Monday 20 September at St Michael's Manor Hotel.
The Food and Drink Festival is organised by St Albans City and District Council along with a number of partners.
Councillor Mandy McNeil, Vice-Chair of the Business and Regeneration Committee, said:
We have a fantastic food and drink industry in the District that suffered more than most business sectors during the COVID-19 pandemic.

However, our restaurants, cafes, bars and food producers not only battled hard to survive, but they also played a huge part in supporting our community during these challenging times.

It would not seem right to hold our normal awards with food and drink businesses having been closed for most of the past 12 months.

However, the steering committee – made up of representatives of your food and drink businesses -  have decided to retain one award to recognise someone in the sector who has given exceptional service to their community during the pandemic.

I urge our residents to nominate an individual in the food and drink sector who you know fits that description. The process only takes a couple of minutes and is a great thing to do.
The Enjoy St Albans Food and Drink Festival will take place throughout the District over the month of September with the events programme being published on the Enjoy St Albans website: www.enjoystalbans.com/.
Councillor contact: Cllr Mandy McNeil, Vice Chair of the Regeneration and Business Committee:  cllr.m.mcneil@stalbans.gov.uk, 07584 198999.
Media contact: John McJannet, Principal Communications Officer: 01727-819533;  john.mcjannet@stalbans.gov.uk