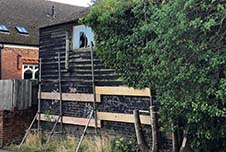 A major road in St Albans has reopened two months ahead of schedule after a dangerous building was made safe.
Old London Road was closed off in May this year near the junction with Watson's Walk after St Albans City and District Council's building control team identified a barn at risk of collapse.
There was concern that in such an event, debris could suddenly crash onto the adjoining pavement and part of the road.
Hertfordshire County Council (HCC), the highways authority, was informed and a decision was taken to shut both path and road to ensure the safety of passing pedestrians and motorists.
The closure resulted in considerable inconvenience as it turned Old London Road into a dead end. Residents, businesses and visitors had to use alternative routes to get to and from addresses.
Council officers traced the barn owners to make them aware of their legal responsibility to carry out essential work to make the building safe.
Initial efforts were unsuccessful and the Council was preparing to apply to Magistrates' Court for permission to access the private property and secure it. 
This process would have taken at least another two months to complete.
However, after persistent approaches by the Council, the owner agreed to undertake the remedial work.
A scaffolding firm has now shored up the structure to make it safe.
Following this, HCC - with the Council's support – authorised the reopening of Old London Road earlier this week.
Councillor Jamie Day, Portfolio Holder for Planning, said:
I am delighted this saga has been brought to an end and the barn has been made safe.

I know that the road closure was causing considerable distress to people in the area as it is a vital City Centre route. 

I can understand that people were getting frustrated as nothing appeared to be happening to fix the problem.

However, we were working hard behind the scenes with Hertfordshire County Council to find a solution. 

I'm pleased that we have now done so by gaining the cooperation of the property owner rather than by going to court. This has resulted in the road reopening a lot earlier than we had feared.
Picture: the shored-up barn.
Councillor Contact:
Councillor Jamie Day,
Portfolio Holder for Planning for St Albans City and District Council
Email: cllr.j.day@stalbans.gov.uk
Tel: 01727-836924.
Media contact: 
John McJannet,
Principal Communications Officer,
St Albans City and District Council
Tel: 01727-819533
Email: john.mcjannet@stalbans.gov.uk.