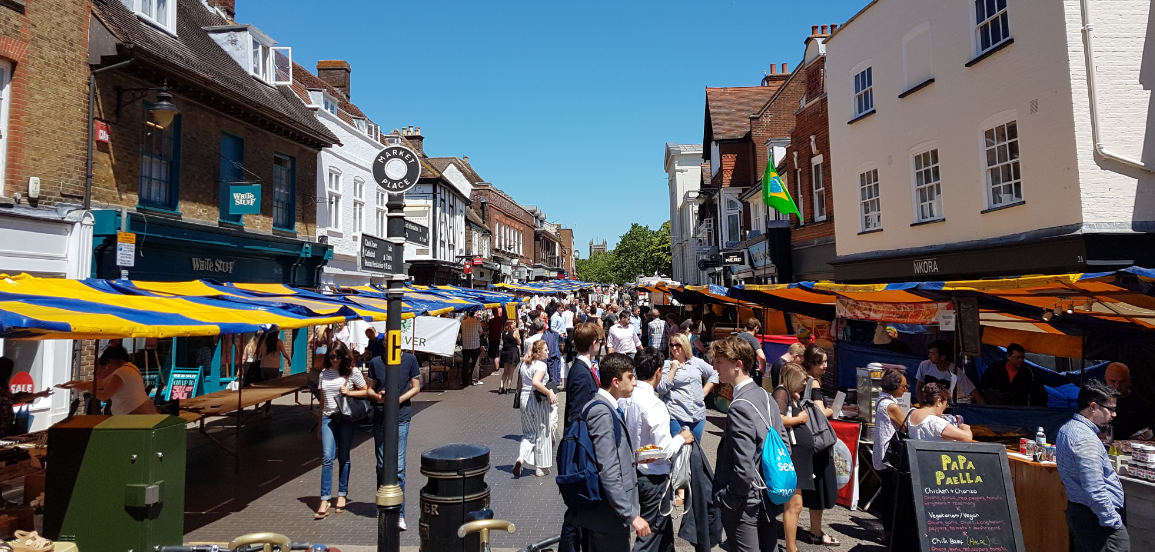 Plans for Charter Market changes should be reviewed, a Committee says. More statues and other public art needed in St Albans.
Plans to replace traditional stalls at St Albans Charter Market with a variety of gazebos should be reconsidered, a Council Committee has said.
St Albans City and District Council stopped putting up the stalls during the COVID-19 pandemic to reduce the health risks.
Instead, traders have been told to bring along and erect their own gazebos.
In an update about the change at Cabinet in September, it was said that the stalls - which have awnings in distinctive blue and yellow colours - were not expected to return.
The issue was discussed by the Council's Community, Environment and Sport Scrutiny Committee at its meeting on Thursday 3 December.
Members made a number of recommendations to the Portfolio Holder for Business, Tourism and Culture who has responsibility for the Charter Market.
They called for the proposal to use gazebos permanently to be subject to a full consultation with traders, local shops, Councillors and residents.
In addition, they said gazebos or any new stalls should in future be branded uniformly with the traditional colours.
A further recommendation was that decisions on the future of the Market, including is appearance and layout, should be cost-effective.
Councillor Annie Brewster, the Committee's Chair, said after the meeting:
The proposal to dispose of our traditional market stalls seems to have been advanced without adequate debate or attention. The Committee was surprised at this news.

The Committee felt that this is a very major issue affecting the future look of our City Centre and it needs to re-thought and consulted on more widely. We must hear the views of traders, shoppers, local businesses and the public at large.

Members felt it was important to ensure that, once the pandemic is over, our 1553 Charter Market is uniquely branded again in St Albans' colours. It needs to revert to a tidy, uniform appearance to project the right image of our City, as a major jewel in our crown.

There was a concern that dispensing with stalls to save the Council money would open the door to re-development of the storage depot in Drovers Way where the market equipment is stored, removing this valuable market resource.

While COVID has hit the Council's finances and we always have to be cost efficient, the Committee was of the view that the Charter Market is the beating heart of the City and must be properly resourced.
The Committee also looked at the issue of statues and other public art in the District.
A charitable trust is looking to put up a bronze street-level statue of Samuel Ryder (1858-1937), founder of golf's Ryder Cup, an ex-Mayor and local businessman, in St Peter's Street.
There are also moves to put up a sculpture commemorating the Wars of the Roses with the First Battle of St Albans in May 1455 having marked the beginning of the conflict.
The Committee recommended that the Portfolio Holder for Business, Tourism and Culture should investigate whether the Council had a policy on public art.
They said this could allow planning applications for the Ryder statue and the Wars of The Roses sculpture to be progressed quickly in 2021.
In addition, the Committee said the Council should consider using S106 money, payments from property developers, to finance such public realm projects.
Cllr Brewster said:
It is astonishing that there is next to no public art in St Albans. We must have the fewest statues or sculptures of any City in the whole of Europe.

That is why the Committee has called on the Portfolio Holder to see if an official policy on public art exists to us to support initiatives that can fill this vacuum.

St Albans has an enviably rich and varied history and visitors are most surprised we do not do more to celebrate it with statues or sculptures and, indeed, a City Heritage Trail.

The Committee was particularly keen to see more help given to the Samuel Ryder Charitable Trust which has exciting and well-advanced plans to erect a statue to the founder of one of sport's greatest tournaments.  It will draw visitors from both America and Europe to the home of the Ryder Cup.

That would be a wonderful addition to our street scene and we must do all we can to see it come to fruition next year.
Councillor contact: Cllr Annie Brewster, Chair of Community, Environment and Sport Scrutiny Committee: 01438 832255, cllr.a.brewster@stalbans.gov.uk.
Media contact: John McJannet, Principal Communications Officer: 01727-819533;  john.mcjannet@stalbans.gov.uk.