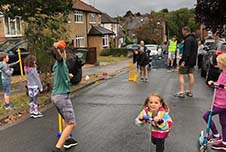 Playing Out scheme launched
A scheme to encourage children in St Albans District to play safely outside in their neighbourhood has been launched.
Playing Out St Albans is part of a nationwide campaign to let young people take over streets free of traffic for a few hours.
They can then cycle, scoot, enjoy games, make friends and experience how life was for previous generations.
Their parents and other residents can get to know each other and have a chat while the children exercise in the fresh air.
The scheme was set up in the District by the environment charity Sustainable St Albans and is supported by St Albans City and District Council.
Applications for street closures in the District for 2020 have opened with residents able to team up and make requests for appropriate dates and times.
The launch of next year's programme follows a highly-successful pilot project last summer when 11 streets in the District tested the concept.
Councillor Anthony Rowlands, Portfolio Holder for Community, Leisure and Sport, said:
This is an outstanding initiative that has a wide range of fantastic community benefits. It gets people out and about, meeting their neighbours and enjoying themselves

We are delighted to support it and will be working with Sustainable St Albans to ensure Playing Out becomes an established feature in the District.

I encourage parents who think their children will enjoy the experience to consider making an application for their street.
Lesley Flowers, a Trustee of Sustainable St Albans, said:
Playing Out is a simple idea and a fabulous way of strengthening our communities. It encourages health, happiness and a sense of belonging.

Children will be free to step out of their front door and play and make new friends. Parents can get to know each other and they can also reach out to more isolated residents and get them to take part.

Playing Out is an inspiring grassroots movement that makes streets more child-friendly and it is great that St Albans is joining in.
To take advantage of the scheme, residents need to organise a street meeting, enlist neighbours to volunteer as stewards and make an application.
They can do so online at http://sustainablestalbans.org/playingout or by emailing playingout@sustainablestalbans.org for help.
Sustainable St Albans' Playing Out Co-ordinator can loan a kit bag that contains road closure signs and Hi-Viz jackets.
There are deadlines for applications in January, March, May and July for closures starting from March, May, July and September, respectively. There is no cost to residents and a street can be closed for no more than eight times a year.
Schemes will make allowances for residents who need to access their vehicle in a closed area. A steward will accompany them to their car and ensure children are out harm's way before they drive off.
Two information sessions are being held for anyone interested in making an application.
These are at the Harpenden Arms, The High Street, Harpenden, Monday 11 November, 10.30am, and the Beech House, St Peter's Street, St Albans, on Friday 15 November, 10.30am.
Picture: a scene from a Playing Out event in St Albans last summer.
Councillor Contact:
Councillor Anthony Rowlands,
Portfolio Holder for Community,
Leisure and Sport,
St Albans City and District Council.
Email: cllr.a.rowlands@stalbans.gov.uk
Tel: 07761 232064.
Media contact: 
John McJannet,
Principal Communications Officer,
St Albans City and District Council
Tel: 01727-296130
Email: john.mcjannet@stalbans.gov.uk.
Sustainable St Albans contact:
Lesley Flowers,
Trustee,
Email: lesley.flowers@sustainablestalbans.org
Playing Out St Albans District contact:
Nicola Wyeth,
Project Co-ordinator,
Email: playingout@sustainablestalbans.org.