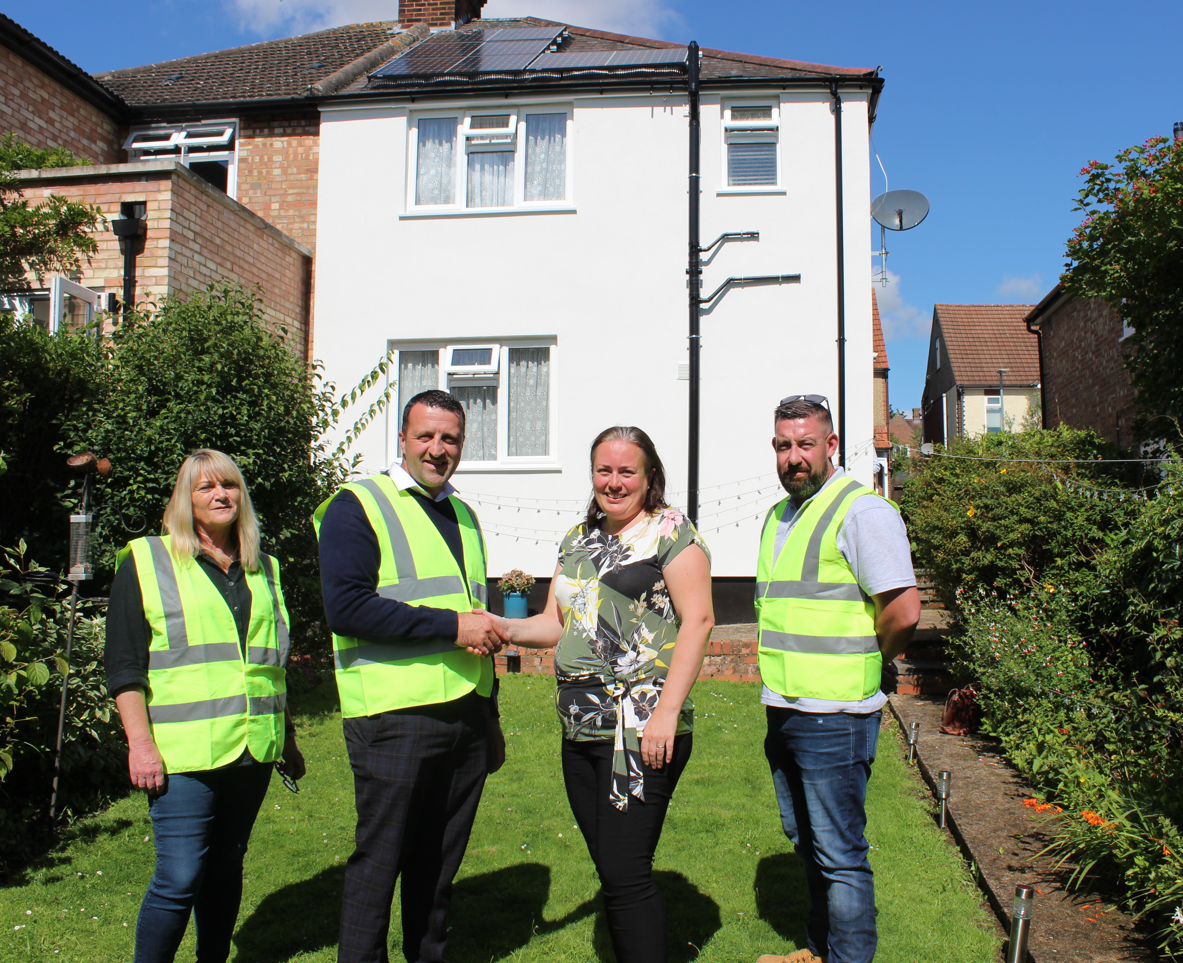 £18 million contract signed for work to make 900 Council homes more energy efficient - and save tenants money!
St Albans City and District Council has appointed a specialist contractor to undertake £18 million of improvements to more than 900 homes and reduce tenants' energy bills.
Correct Contract Services (CCS) will carry out the work after winning a competitive tender to improve the energy efficiency of the social housing properties.
Enhancements may include loft, cavity wall and external wall insulation, solar panels and low-energy lighting. There may also be upgrades to windows, external doors and ventilation.
These measures will help householders with the cost of living crisis by cutting energy bills and will also reduce harmful carbon emissions.
The work is part funded by an £8.45 million grant obtained from a successful bid to the Department for Energy Security and Net Zero's Social Housing Decarbonisation Fund.
The Council had to compete with a host of other organisations for the grant, the biggest that the fund has given to any similarly sized council.
The remaining £9.7 million comes from the Council's housing budget which is financed by rental payments from tenants rather than Council Tax.
Councillor Jacqui Taylor, Chair of the Housing and Inclusion Committee, launched the programme alongside Danny Gladwyn, CCS's Managing Director.
They inspected work at a Council home in Breakspear Avenue, St Albans, which has already benefited from improvement work and spoke to the tenant, Mrs Maureen Kitchingham.
The house has been equipped with solar panels and extractor fans as well as external wall and loft insulation.
Cllr Taylor said:
This is a massive contract for us as it covers around one fifth of all our social housing properties.

We are delighted to have made a successful bid amid intense competition to help fund this ambitious programme. It is testament to the hard work that has gone into making a detailed application.

I am also pleased to have signed a contract with a company with a strong track record for delivering such projects.

The improvements will give our tenants financial help by boosting the energy performance ratings of their homes. They will not need to use as much energy to heat their properties as before, reducing energy bills at a time when costs have soared.
Mr Gladwyn said:
We are thrilled to have secured this contract with St Albans City and District Council and are looking forward to getting on with the job of making these improvements.

This is a challenging project, involving more than 900 homes, but we hope to complete it in around two and a half years and are pleased that hundreds of tenants will benefit by seeing reductions to their household bills.
Mrs Kitchingham said:
I am delighted with the improvements and the quality of the work and am sure other tenants who benefit will be too. I'm looking forward to having a warmer house this winter and seeing a reduction in energy use which will save us money on bills.
CCS was also the contractor for a recent £2.25 million project to improve 136 of the Council's homes. This was supported by a £1.5 million grant, also from the Social Housing Decarbonisation Fund.
The Council has also completed a £750,000 project to make energy efficient improvements at 45 homes with £250,000 coming from the Government's Green Homes Deal.
Cllr Taylor added:
In addition to saving tenants money, this rolling programme to decarbonise our 4,900 social housing properties demonstrates our commitment to tackle the climate emergency and create a carbon neutral District by 2030.

We have taken a fabric first approach to making our homes carbon neutral, focusing on the structure of the buildings to improve insulation and energy performance.

We plan to add carbon neutral heating such as air source heat pumps in the years ahead as technology improves and costs decrease.