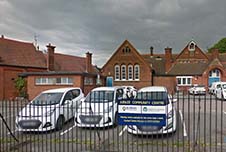 £73,500 boost for community centre
A community centre in St Albans will be able to expand its services after being awarded £73,500 for major improvements.
St Albans City and District Council is giving the money to the Jubilee Centre, Catherine Street, which runs a wide range of activities for local people of all ages.
The extra finance will allow the Centre to host more activities for local people and boost their physical and mental wellbeing.
It has been allocated from S106 payments, money contributed by property developers for community infrastructure in recognition of the impact of new housing or other buildings.
Councillors for both the St Peter's and Verulam wards agreed to the Centre being chosen as a recipient for some of their S106 funds.
Additional funds may be provided by the Council's City Neighbourhoods Committee which has a budget to support community assets in the City Centre.
Friends of the Jubilee Centre, a voluntary group which helps raise funds, was involved in the application to the Council.
The money will go to Hertfordshire Independent Living Service (HILS), a charitable social enterprise that owns the building's leasehold and provides services for older and vulnerable people.
Among other activities, it runs a meals-on-wheels service from the centre, serving more than 2,500 older and vulnerable people across the county. 
In addition, HILS runs a drop-in lunch club and a dementia club for people living with mild to moderate dementia.
There are also rooms for hire at reasonable cost for community groups, private events and meetings.
Among regular activities run by local organisations are a mother and baby club, dance classes, yoga classes and art therapy.
Councillor Jacqui Taylor, Portfolio Holder for Housing, Protection and Inclusion, said:
We are delighted to be supporting the Jubilee Centre and helping to secure its future.

This will provide for much-needed investment in the building for developing even more services and opportunities for our residents.

The Jubilee Centre has an important role in supporting older people and preventing many of them from having to go into institutional care. It also brings the generations together in the many activities that are run there to forge new friendships. 

Having a secure and welcoming space where this can happen is critical for improving everyone's quality of life whatever their age.
Annie Stevenson, Chair of Friends of the Jubilee Centre, said:
The Jubilee Centre is too often overlooked and unrecognised. It is one of our City's hidden gems as it does a great deal of good for our older citizens as well as our younger ones, but often goes unnoticed.

A group of us got together to set up Friends of the Jubilee Centre last year to generate new energy in support of this wonderful community asset under the banner – Visible, Valued and Vibrant.

We now have around 100 members and stand for protecting this community space for inter-generational friendships, creativity and wellbeing.

This payment from the Council will allow us to support HILS better to develop the Centre, secure its future and see it thrive as a valuable community resource.
Sarah Wren, Chief Executive of HILS, said:
We are delighted that St Albans City and District Council has chosen to award this money to the Jubilee Centre.  It is so exciting! 

In a busy City like St Albans, it is so important that there are spaces where people feel welcome and able to connect with others.  

We know that many people receive essential support and make lifelong friendships in the walls of our community centre.  We simply cannot wait to start work on improving our offer to local residents and to expand our services to help even more people.
For more information on HILS: www.hertsindependentliving.org.
Councillor contact:
Councillor Jacqui Taylor,
Portfolio Holder for Housing,
Inclusion and Protection
Email: cllr.j.taylor@stalbans.gov.uk
Tel: 07971 906343.
Contact for the media: 
John McJannet,
Principal Communications Officer
Tel: 01727 819533
Email: john.mcjannet@stalbans.gov.uk.