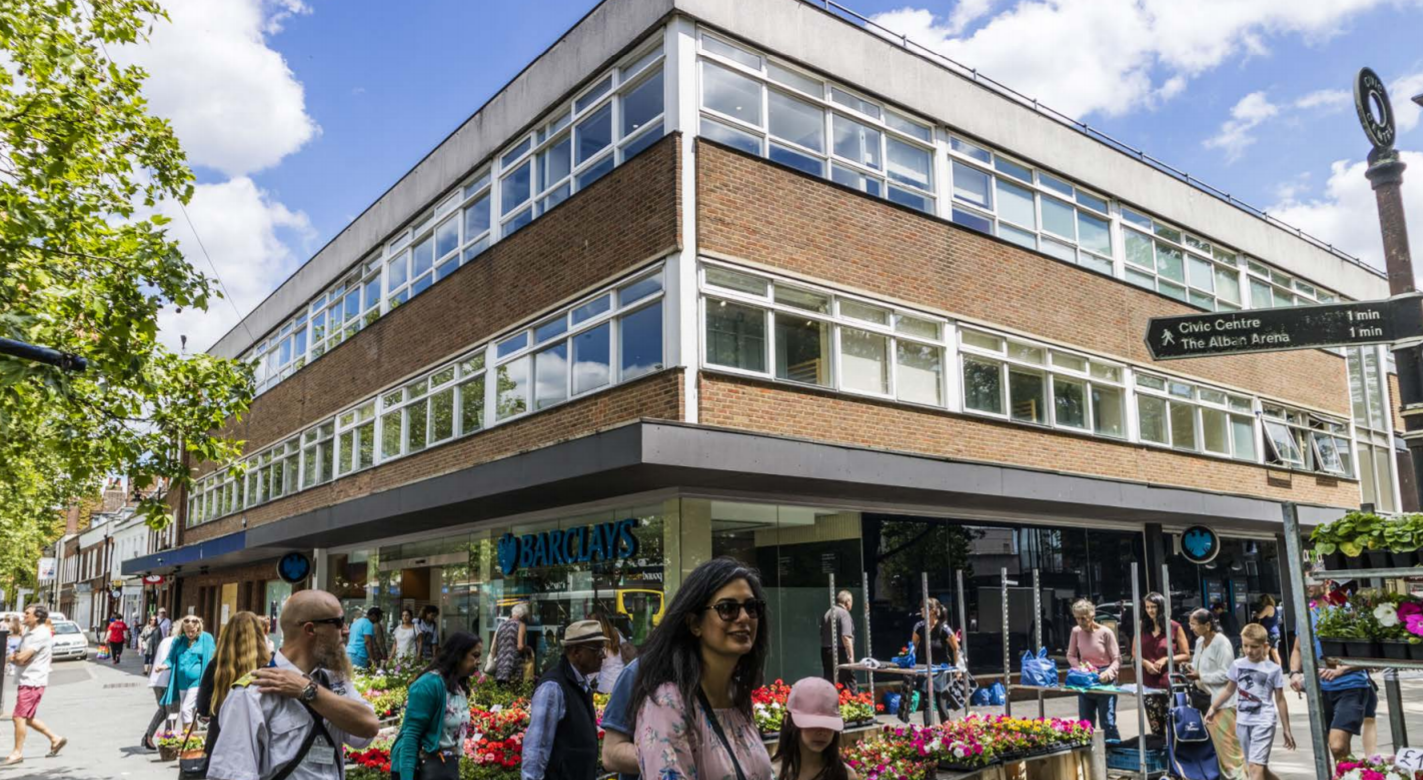 Purchase of major City Centre office block
A major retail and office block which has been on the market for £7.2 million could be bought by St Albans City and District Council.
The Council plans to buy Lockey House, a building in the City Centre which currently has Barclays Bank and Virgin Money among its tenants.
Cabinet – the Council's executive - approved moves to purchase the freehold of the property at its meeting on Tuesday 21 July.
This is subject to the completion of full legal and building checks as well as a valuation being completed by an independent property surveyor.
The Council has already made a significant offer which has secured its position as the preferred bidder.
A meeting of the Full Council will have to approve any deal as well as an increase to the Council's capital budget.
Lockey House is three storeys high, contains almost 17,000 square feet of space and was built in the 1960s.
It is adjacent to the Civic Centre, the Council's main offices, and is also beside a regeneration site known as the City Centre Opportunity Site (CCOS).
CCOS, which included a number of rundown public buildings, is being developed by the Council in stages.
Building work is underway at one section which is known as CCOS South and was formerly the site of a police station and NHS clinic. It is being transformed into adjacent blocks of flats and commercial space.
The purchase of Lockey House will enable the Council both to manage the whole CCOS site more effectively and to shape the economic mix of uses in this part of the City for shoppers, businesses and residents while also providing future redevelopment options.
It is also intended to create new annual revenue for the Council as the rental income should be more than the repayments for the 50-year loan that will finance the purchase.
Councillor Robert Donald, Portfolio Holder for Commercial, Development and Wellbeing, said: "This is a unique opportunity to acquire one of the biggest and most prominent commercial buildings on our City Centre high street which will enable the Council to protect and support the city's economic life in the future. It is an opportunity we believe we should not miss and will require robust leadership and a clear vision in these hard times to achieve.
"It is an ambitious acquisition in terms of our commitment to shape and regenerate this area of the City Centre at a time when coronavirus has reduced much retailing activity. This is precisely why we regard it as important to seize the moment now.
"However, I am convinced that this investment will provide value for money for our residents in the years ahead through the additional annual rental income it generates. especially given the location of Lockey House beside our own Civic Centre and CCOS as the City is redeveloped.
"Given the regeneration we have already started on the nearby CCOS South site, and what is planned to follow this in CCOS North and the CCOS cultural area, it makes sense to acquire an interest in this property estate.
"Councils are having to find new sources of income to fund frontline services as Government grants have continued to reduce in recent years. I expect this purchase will make much-needed annual income for the Council even after allowing for the current Covid-19 related downturn in high street shopping.
"There is still much work to do in carrying out due diligence as regards the state of the building itself and legal requirements.  Full Council will also have to agree the increase in our capital budget to enable this investment to happen. 
"However, I am confident that now we are the preferred bidder we can negotiate a good deal which reflects the present Covid-19 situation and the financial opportunity this purchase offers for the Council and our taxpayers."
Councillor contact: Cllr Robert Donald, Portfolio Holder for Commercial, Development and Wellbeing: cllr.r.donald@stalbans.gov.uk, 01727 841647.
Contact for the media: John McJannet, Principal Communications Officer: 01727 819533,  john.mcjannet@stalbans.gov.uk.