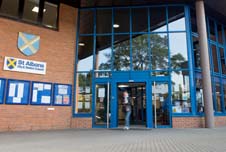 Residents, businesses and community groups are being given the chance to question the executive of St Albans City and District Council at their monthly meetings.
They will be able to raise issues of concern, suggest changes to policies and comment on the Council's performance.
A 15-minute slot is to be set aside at Council's Cabinet meetings beginning in September for the questions and answers sessions.
The initiative was announced by the Council's Leader, Councillor Chris White, at the Thursday 18 July Cabinet meeting.
Questions should be relevant to the meeting's agenda which is published a week in advance.
People can put forward their questions in person, listen to the response and ask a supplementary question. 
The Cabinet is the decision-making body of the Council that works within an agreed budget and policy framework.
Its seven members each have an area of responsibility, known as a portfolio, about which they make day-to-day decisions. These include social housing, planning, recycling, museums, parks and the provision of leisure facilities.
Cllr White said:
Cabinet is looking for much more engagement with the public about the services we run on their behalf. We also want to be as transparent as possible and conduct our business in the open.

Setting aside a section of our Cabinet meetings to questions on the agenda from the public will help us to achieve those aims.

It will give us greater contact with the public and help us find out what are their real and most pressing concerns. It will also allow the public to hold us more accountable for our decisions by questioning us directly about what we are doing and why we're doing it.

I'm hoping this fresh, innovative approach to how we operate will be well received and get residents more involved in our work.
As well as being Leader, Cllr White has the climate and environment portfolio.
The other Cabinet members are: Cllr Anthony Rowlands, Deputy Leader, Community, Leisure and Sport; Cllr Karen Young, Resources; Cllr Jamie Day, Planning; Cllr Jacqui Taylor, Housing Inclusion and Protection; Cllr Robert Donald, Property, Commercial and Development; and Cllr Mandy McNeil, Business, Culture and Tourism.
A detailed breakdown of their responsibilities is available here: bit.ly/2XMTDWM.
The first questions will be taken at the Cabinet meeting on Thursday 19 September.
The Cabinet agenda and papers will be published a week beforehand on the Council's website at: stalbans.moderngov.co.uk/mgCommitteeDetails.aspx?ID=117.
Councillor contact:
Councillor Chris White,
Leader and Portfolio Holder for Climate and the Environment for St Albans City and District Council
Email: cllr.c.white@stalbans.gov.uk
Tel: 01727 845300.
Contact for the media: 
John McJannet,
Principal Communications Officer
Tel: 01727 296130
Email: john.mcjannet@stalbans.gov.uk.