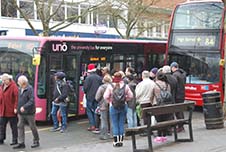 Question time on the buses
Community groups and residents have a chance to quiz company executives about bus services in the St Albans District.
Representatives of several bus operators are due to attend a meeting at St Albans City and District Council.
They will give an update on the current state of services and any changes they have planned for the future.
Among the topics likely to be covered are bus routes, fares, services to outlying areas, green transport and accessibility.
More recent developments which could feature are smart ticketing and the provision of real-time travel information at bus stops.
The executives will address the Council's Planning, Resources, Housing and Commercial Scrutiny Committee on Wednesday 9 January.
Among those expected to attend are representatives from Uno and Arriva as well as Hertfordshire County Council's Network and Travel Planning Team.
Members of local bus users' groups, which seek to be the voice of passengers, have also been invited and will be asked to make a contribution to the discussion.
Residents and organisations can submit questions beforehand and these may be aired by the Committee's Chair, Councillor Roma Mills.
Councillors on the Committee will also be able to raise any issues they may have.
The meeting is open to the public and will be held from 7pm in the Council Chamber at the Civic Centre, St Peter's Street.
Questions should be emailed by 5pm on Wednesday 2 January to scrutiny@stalbans.gov.uk.
They can also be sent by post to the Scrutiny Officer, St Albans City and District Council, Civic Centre, St Peter's Street, St Albans AL1 3JE. 
Cllr Mills said:
Buses are one of our most important forms of transport and yet they are often overlooked and do not get the attention they deserve.

This meeting will put the spotlight very much on those who run our bus services and I'm sure people will take advantage of this opportunity to quiz those responsible about their future plans.

I welcome any questions that our residents want me to put forward on their behalf and am sure a wide range of issues will arise. It should be an absorbing meeting.
The meeting will be screened live on the Council's website: www.stalbans.public-i.tv/core/portal/home.
Picture: Buses on St Peter's Street.
Councillor Contact:
Councillor Roma Mills, St Albans City and District Council. 
Tel: 01727 837319
Email: Cllr.R.Mills@stalbans.gov.uk
Media contact: 
John McJannet,
Principal Communications Officer,
St Albans City and District Council.
Tel: 01727-296130
E-mail: john.mcjannet@stalbans.gov.uk