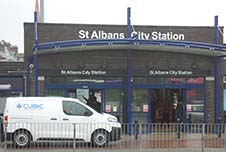 Quiz rail executives about Thameslink services
Train users have a chance to quiz rail executives about the state of Thameslink services between London and the St Albans District.
Representatives of Govia Thameslink Railway (GTR), which operates the line, are to give an update to a Council meeting on their attempts to make improvements.
They will be joined by colleagues from Network Rail, which owns the track and other infrastructure, and three passenger groups.
These are The Association of Public Transport Users, Harpenden Thameslink Commuter Group and St Albans Commuter and Passenger Action Group.
Wheelchair-user Dominic Hyams has been invited to represent the interests of disabled commuters.
The rail executives will appear at a meeting of St Albans City and District Council's Planning, Resources, Housing and Commercial Scrutiny Committee.
Open to the public, it will be held at the Council chamber at the Civic Centre, St Peter's Street, on Tuesday 12 February from 7pm. 
Anyone who wants to raise an issue can do so by emailing scrutiny@stalbans.gov.uk by midnight on Sunday 3 February. 
Submitted questions will be put to the rail company representatives by the Committee's Chair, Councillor Roma Mills.
There was severe disruption for weeks on the Thameslink line last year after a new timetable was came into force in May. This led to continual cancellations and delays, sparking a Government inquiry.
A revised timetable was introduced last month with further changes expected in the late spring as GTR works towards reintroducing the original May 2018 timetable.
Among the topics likely to be discussed at the meeting are the recent above-inflation price rises, weekend services, overcrowding, the compensation system and services to Harpenden.
Cllr Mills said:
The Thameslink service has stabilised since the new timetable nightmare, but it continues to be a major issue for the tens for thousands of our residents who commute to London.

Many of the problems encountered in the summer persist to some degree and there is particular anger over reductions to the Harpenden service as well as the New Year fare rises.

I'm sure people will want to take advantage of this opportunity to be updated by GTR and Network Rail executives about their future plans and to question them in detail.
  
I welcome any questions that our residents want me to put to the executives and I am sure the rail passenger groups that are represented will have something to say.
Questions can also be sent by post to the Scrutiny Officer, St Albans City and District Council, Civic Centre, St Peter's Street, St Albans AL1 3JE. 
  
The meeting will be screened on the Council's website by webcast: stalbans.public-i.tv/core/portal/home
Councillor contact:
Councillor Roma Mills, Chair of the Planning, Resources, Housing and Commercial Scrutiny Committee of St Albans City and District Council. 
Tel: 01727 837319 
Email: Cllr.R.Mills@stalbans.gov.uk
Contact for the media: 
John McJannet,
Principal Communications Officer,
St Albans City & District Council 
Tel: 01727 296130
Email: john.mcjannet@stalbans.gov.uk