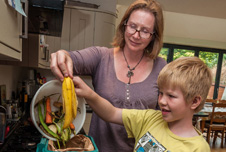 Recycling performance soars
St Albans City and District Council is on track to becoming one of the top ten recycling local authorities in England.
Government figures show that the Council's performance for the year to the end of March 2017 saw it soar from 56th to 26th in a table of 350 local authorities. (1)
Its annual recycling rate – as measure by weight - increased to 57.5% from the previous year's 52.2%.
Since then, the rate has increased further to 59.4% for the whole of 2017 – close to the target rate of 60%-plus which could put the Council in the country's top 10.
Initiatives that will be undertaken during 2018 to achieve that goal were given to a meeting of the Council's Cabinet on Thursday 25 January.
During 2017, the 60% target was exceeded on six separate months and peaked at 65.3% in June 2017. 
Indications are that performance is starting to flat line and measures to boost it further will be taken.
There will be a campaign to encourage more food recycling, targeted at areas where the take-up has been disappointing. These include London Colney and Sopwell in St Albans.
A study last year showed that around 5,000 tonnes of food waste a year was still being sent to landfill from the District. That is 25% of the landfill total.
The Council and its waste contractor Veolia will continue its efforts to discourage residents from putting out side waste – bags of excess rubbish placed beside the brown landfill bin.
It is the Council's policy not to take side waste with research showing that households producing it are often filling their brown bin with food scraps and other recyclable waste.
The brown bin has the capacity to cope with the non-recyclable waste of all but a handful of households.
The Council and Veolia are also working to reduce the amount of recyclable material that is "contaminated" by non-recyclable waste and has to go to landfill as a result.
Residents will be urged to take special care to separate waste into the correct bins while refuse collectors will try to remove any contaminants before emptying the bins.
Council officers will also talk to East Riding of Yorkshire Council, England's top recycler with a 65.4% rate, to see what further improvements can be made.
Councillor Daniel Chichester-Miles, Portfolio Holder for the Environment, said: "The new waste collection service that was rolled out in the summer of 2016 has been a great success and supported by residents.
"We are now tantalisingly close to achieving our ambition of a 60%-plus recycling rate and will be trying very hard to get over the line during 2018.
"There are a number of initiatives that we are pursuing, including encouraging more food waste recycling, and we hope our residents will back us all the way. It will be a great achievement for the District if we can become one of the country's top ten performers.
"Recycling not only conserves resources and protects the environment, it also saves the Council money with landfill becoming increasingly expensive."
Councillor contact:
Cllr Daniel Chichester-Miles, Environmental Portfolio Holder for St Albans City and District Council
Tel: 01727 819281, Email: cllr.d.chichester-miles@stalbans.gov.uk 
Contact for the media:
John McJannet, Principal Communications Officer, St Albans City & District Council
Tel: 01727 296130; e-mail: john.mcjannet@stalbans.gov.uk 
Note:
1. Full league table is available here: https://www.letsrecycle.com/councils/league-tables/2016-17-overall-performance/