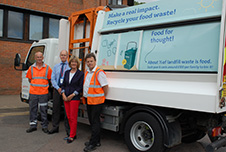 Recycling rate hits 60% annual target for first time
The household recycling rate has reached St Albans District's annual target of over 60 per cent for the first time thanks to residents' recycling efforts.
The annual recycling rate hit 60.3 per cent for the 12 months ending May 2018, up from 58.8 per cent for the same period the previous year.
Residents also achieved their highest-ever monthly recycling rate of 66.9 per cent in May. 
The increase in the annual household recycling rate builds on improvements made to the Council's recycling scheme in 2016 when the weekly food waste collection was introduced. At the time, one third of landfill waste was food. This has now fallen to around 26 per cent.
The latest recycling figures will be presented to St Albans City and District's Council's Cabinet at a meeting on Thursday, 21 June.
Councillor Frances Leonard, the Council's Portfolio Holder for the Environment, said:
This is very good news. Residents in St Albans District are making a great effort to recycle more of their waste and they should be proud of their achievements. The more we recycle the less waste is sent to landfill. Not only is this good for the environment, it also means that the amount the Council pays to dispose of waste by landfill is reduced.

Recycling rates generally improve in the summer months when there is more garden waste. However, this increase in the annual rate shows that residents are committed to increasing the proportion of waste they recycle all year round.

One way that residents can particularly help even more, is to reduce the amount of food waste that is sent to landfill. Waste audits show that food waste accounts for approximately 26 per cent of the waste sent to landfill. Please help us reduce this by using up scraps where you can, just buying what you need and using the Council's weekly food waste collection service.

Last year, the District moved up to 26th in a national recycling table. We are hoping for a higher placing this year when the results are announced.
More information about the Council's recycling and waste collection services is available at https://www.stalbans.gov.uk/recycling-and-rubbish
The public can attend the meeting at 7pm on Thursday June 21 at the District Council's offices at the Civic Centre, St Peter's Street, St Albans. The meeting is also being webcast and can be watched on the Council's website.
The agenda and papers for the meeting are available on the Council's website.
Councillor contact:
Cllr Frances Leonard, Environmental Portfolio Holder at St Albans City and District Council
Tel:  01727 861860, Email:  cllr.f.leonard@stalbans.gov.uk
Contact for the media:
Amanda Wilkinson, Senior Communications Officer, St Albans City and District Council
Tel: 01727 819317, E-mail: amanda.wilkinson@stalbans.gov.uk 
Photo:
Leader of St Albans City and District Council, Cllr Alec Campbell, and Environmental Portfolio Holder, Cllr Frances Leonard, pictured with waste operatives, Derek Valerio (left) and Paul Lawrence (right) from the Council's waste contractor Veolia UK.