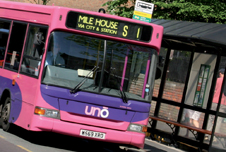 More action will be taken this year to further reduce energy use in the St Albans District and cut the harmful emissions that can result.
St Albans City and District Council has met its own a target of bringing energy use in the District down by 1.5% a year from 2010.
The Council is also on track to meet its target of a 20% reduction District-wide in emissions of greenhouse gases in the period 2008/09 to 2020/21
Over the coming year, the Council will continue its efforts to encourage energy efficiency with a series of initiatives.
It is a member of the Hertfordshire Warmer Homes partnership, a county-wide scheme to provide free or discounted energy-saving improvements to vulnerable and low income households. 
Loft insulation, draught proofing and boiler repairs are among the measures that are available.
The Council is also due to complete the Green Ring, a 9km-long cycle and pedestrian route that encircles St Albans City Centre.
It is intended to make cycling or walking a first choice for journeys within the city where previously a car would have been used. 
The Council has also applied for funding for new energy-efficient buses that produce fewer emissions.
An update on the Council's energy conservation work was given to a meeting of the Community, Environment and Sport Scrutiny Committee on Thursday 18 January.
Councillor Anthony Rowlands, the Committee's Chair, said: "The Council cannot control the amount of energy consumed across the District, but it does have a considerable amount of influence in this regard.
"We also have targets for reducing energy use and emissions in Council owned properties including our social housing stock and it is very pleasing that we are meeting these.
"This is a long-term project, however, and it is vital that we keep pushing ahead and regularly review our progress and future plans.
"The Committee will be receiving a further report to its March meeting detailing steps being taken to reduce air pollution locally. We are also very keen to see the Council's administration actively implementing steps to discourage idling vehicles following a lot of discussion last year."
For more information on Hertfordshire Warmer Homes including how to apply for a grant, see: https://www.hertfordshire.gov.uk/services/health-in-herts/healthy-places/healthy-places.aspx#housing
Councillor contact:
Anthony Rowlands, Chair of the Community, Environment and Sport Scrutiny Committee of St Albans City and District Council.
Tel: 07761-232064 Email: anthonyrowlands@hotmail.com
Contact for the media:
John McJannet, Principal Communications Officer, St Albans City and District Council
Tel: 01727 296130, E-mail: john.mcjannet@stalbans.gov.uk