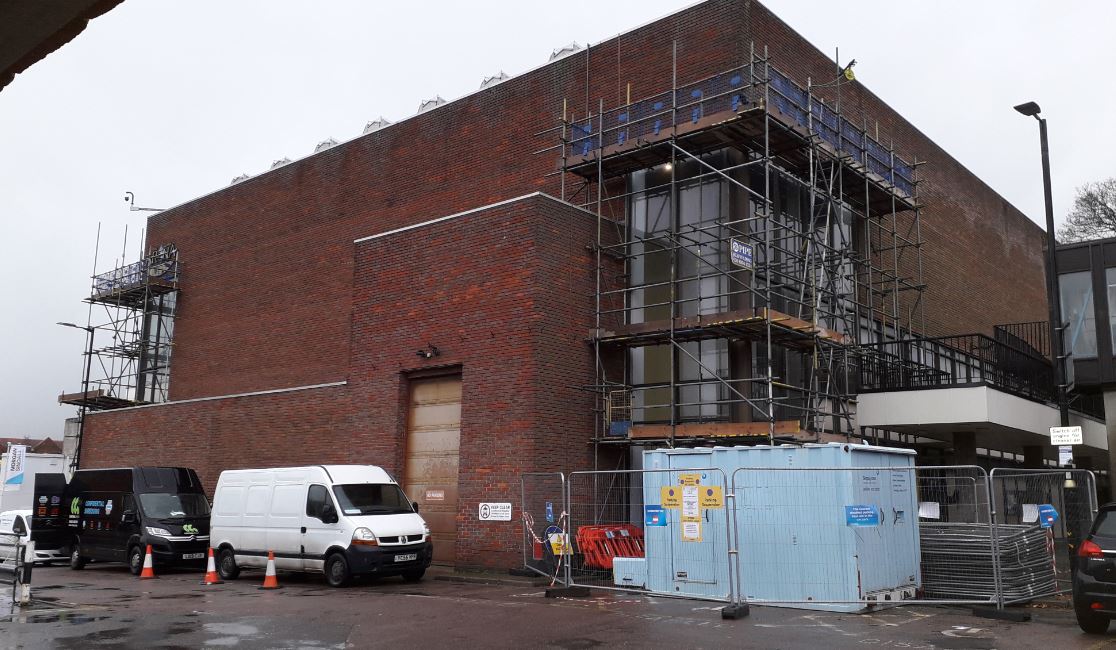 Repair work to Alban Arena will have no impact on shows
Essential work is being undertaken to repair one of St Albans' flagship buildings – the Alban Arena.
Scaffolding has been put up to allow for the repairs to brickwork surrounding the windows at the building's corners.
The area below has been cordoned off by fencing as a safety precaution for the public with the repairs scheduled to start next month once design work has been completed and new materials sourced.
Further inspections are likely to take place to determine the extent of the deterioration in the 52-year-old building's condition.
Owners St Albans City and District Council are working with a consultant construction engineer and a contractor on the project.
The venue will reopen this month as there is no risk to the audience with all fire exits remaining open.
A production of Peter Pan is being staged by the Ovo theatre group from 11 December to Sunday 3 January.
The audience will be socially distanced for the family show with 38 performances taking place. Normal capacity has been reduced to 40%.
Councillor Robert Donald, Portfolio Holder for Commercial, Development and Wellbeing, said:
During a routine check some issues were identified with the external brickwork.

We took immediate action to secure the area to make sure there was no risk to the public and we are looking to start repair work as soon as possible to get the building back into top condition for the Spring.

Fortunately, we are still able to reopen the Arena for the Christmas season and there will be no impact on its return to action this month with the Peter Pan show. I am delighted this will still be happening, with appropriate social distancing, to brighten up a particularly dark and difficult Christmas for us all this year.
Councillor contact: Cllr Robert Donald, Portfolio Holder for Commercial, Development and Wellbeing: cllr.r.donald@stalbans.gov.uk, 01727 841647.
Contact for the media: John McJannet, Principal Communications Officer: 01727 819533,  john.mcjannet@stalbans.gov.uk.