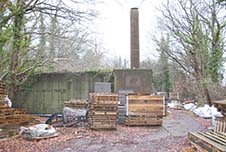 Secret Cold War rail centre listed
A Cold War railway control centre designed to survive an atom bomb attack has been given listed building status.
The disused facility - called an Air Raid Precaution Railway Control Centre - was constructed in Station Road, Bricket Wood, in 1954 as a defence against Soviet aggression. 
In the event of war, key rail workers from London Euston were to be transferred there to keep the trains running.
The building was hidden in a wood and located more than ten miles from the centre of London, the likely epicentre of a missile strike.
It was to be one of a network of 25 centres around the country, although only five were completed.
Historic England has informed St Albans City and District Council that it has recognised the building  as being of both special architectural and historic interest.
After an assessment, the Secretary of State of Digital, Culture, Media and Sport has now agreed to give it a Grade II listing.
That means it will be added to the National Heritage List and given extra protection under planning law.
An update on his decision was given to a meeting of the Council's Cabinet on Thursday 20 December.
Councillor Mary Maynard, Portfolio Holder for Planning and Building Control, said:
I'm delighted that the importance of this building has been recognised. As the local planning authority, we will have to give consent to any modifications.

Our railways are a major part of our industrial and social heritage and, of course, there are many rail enthusiasts out there who are fascinated by all aspects of its history.

This centre fell into disuse decades ago and was at one time being used for storage by a building supplies company with its historic importance going unrecognised.

I am pleased that it has now been given listed building protection, so that any modifications can only be made with consent from us.
The secret control centre was built beside Bricket Wood rail station and near some railway cottages at a cost of £8,500 – around £230,000 in today's money. It was a standard design, known as a Type L, and measures roughly 36 feet by 95 feet.
The exterior, windowless walls are made of 2ft-thick reinforced concrete while there were two steel doors at either end, protected by standalone blast walls. It has a flat roof and a ventilation shaft in one corner.
Its interior included 1ft-thick partition walls, a concrete floor and what appears to be a decontamination area as well as generator, telephone and control rooms.
It was classed as being of architectural importance because it is the only surviving example of its type in England.
Historic England said it was of historic significance because it is "tangible evidence of the strategic national response to the perceived threat of hostility to British government, security, infrastructure and the civil population during Cold War tensions".
The Government's plan was to staff the shelter shortly before the outbreak of war to co-ordinate the evacuation of London's civilian population. It would have remained in use during a conflict.
For more information, see: historicengland.org.uk/listing/the-list/list-entry/1459132.
Pictures: top: the Air Raid Precaution Railway Control Centre in Bricket Wood; middle, a side wall with door that was added in late 20th Century; bottom: view from the south.
Councillor contact:
Cllr Mary Maynard,
Portfolio Holder for Planning and Building Control,
St Albans City and District Council.
Tel: 01582 620801.
Email: Cllr.M.Maynard@stalbans.gov.uk
Media contact:
John McJannet,
Principal Communications Officer,
St Albans City and District Council.
Tel: 01727-296130
E-mail: john.mcjannet@stalbans.gov.uk.