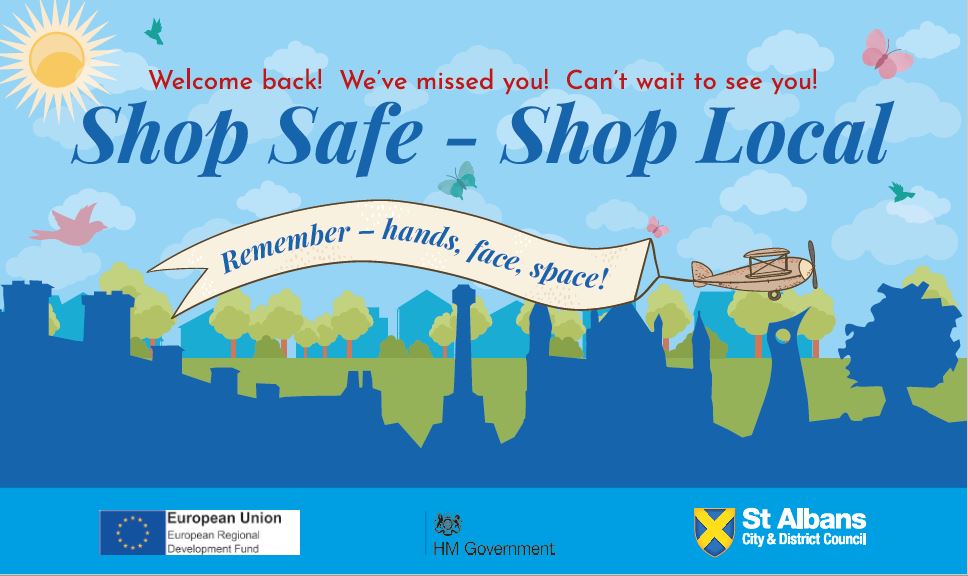 Shop Safe - Shop Local campaign in St Albans District
St Albans City and District Council - in partnership with Hertfordshire County Council, Harpenden Town Council and St Albans BID – is helping residents to shop safely through a national campaign supported by the European Regional Development Fund.
Businesses on the District's high streets and in smaller neighbourhood shopping areas are being offered a selection of posters and floor markings to help their customers shop safely.
Signage that encourages social distancing will be installed across the District. A social media campaign was also launched recently.
The funding will also be spent on planters in St Albans City Centre and Harpenden Town Centre.
These ensure social distancing and keep residents and visitors safe while shopping and at work.
Additional ideas are being considered in line with Government guidance and will be announced in due course.
The Council was allocated £130,000 through the Reopening High Streets Safely Fund in May last year.
This programme was recently extended and the Council will soon be able to claim for an additional £130,000 through the new Welcome Back Fund.
This will allow the Council to work with Town and Parish Councils and St Albans BID to establish a safe trading environment for businesses and customers through extra measures that extend to the end of March 2022.
Media contact: Thomas Wrench, Finance and Legal Department, St Albans City and District Council: thomas.wrench@stalbans.gov.uk; 01727 819325.