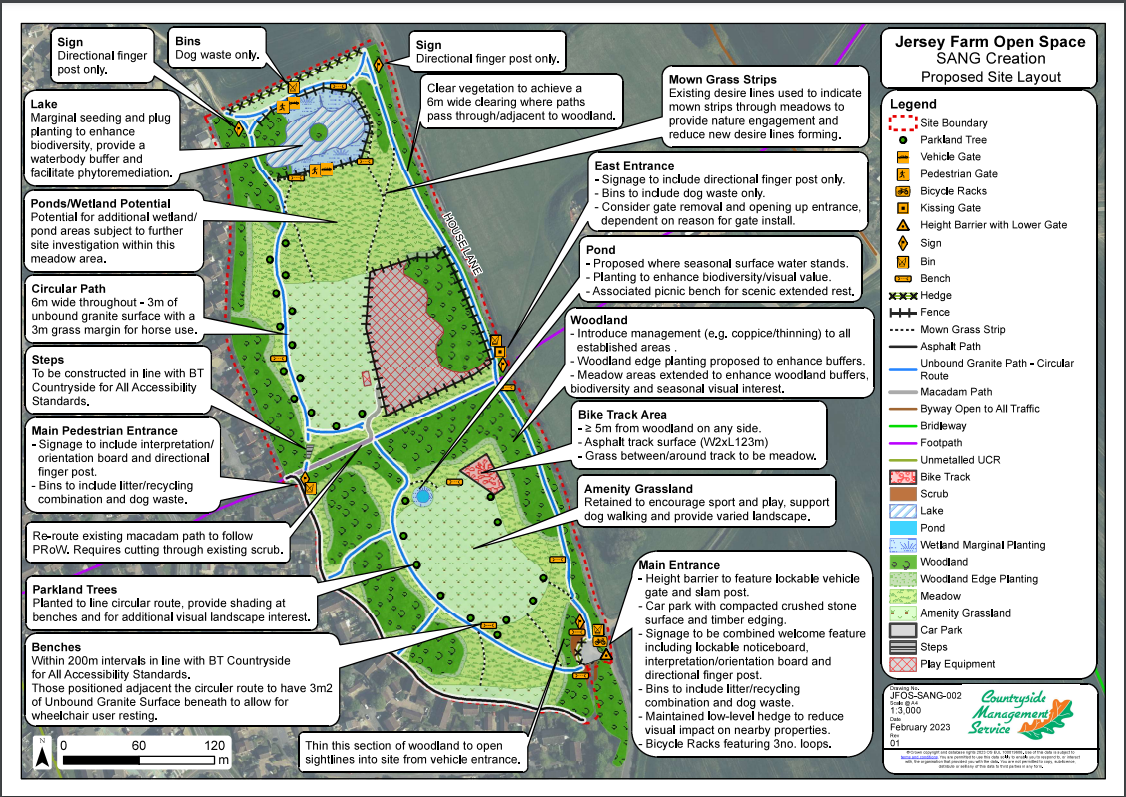 Significantly improved recreational green space to be created in St Albans District
A significantly improved recreational green space with woodland, a lake, footpaths and a bike track is set to be created in St Albans District.
An 80,000m2 site to the north-east of the city centre, known as Jersey Farm Open Space, has been identified for the project.
The green space will be ideal for dog walkers, cyclists, child play and for people who simply want to take a stroll.
It will also improve the area's biodiversity and provide a natural habitat for many species of wildlife including birds, bats and butterflies.
The area, owned by St Albans City and District Council (SADC), will be developed over the next 20 years and funded by payments from property developers.
The aim is to draw some local people away from visiting the threatened Chiltern Beechwoods at the Ashridge Estate by providing them with an alternative beauty spot to enjoy, as required by Natural England which has used special powers in an intervention covering a number of councils in the area.
The Council's Policy Committee approved the plans at its meeting on Thursday 19 March and work will be undertaken to finalise the proposals.
Councillor Chris White, the Committee's Chair, said after the meeting:
This is an exciting venture which I am sure will be welcomed by our residents.

We are seizing an opportunity to provide a fantastic, much improved amenity for the District's growing population.

It is in keeping with our priority of improving the District's environment as it will provide another natural green space where people can enjoy fresh air, wonderful views and healthy exercise.
In excess of two million people a year are attracted to the Ashridge Estate and over time these high visitor numbers have inadvertently caused considerable damage.
This includes exposed tree roots, compacted soil, eroded footpaths and endangered wildlife.
As a result, Natural England has declared a Zone of Influence within a 12.6km radius of the woods which takes in some western areas of St Albans District.
To prevent even higher visitor numbers, new residential development within this zone has been suspended while a strategy to mitigate beechwood damage is agreed.
Dacorum Borough Council has led the effort to produce the strategy along with SADC, Natural England, the National Trust, Hertfordshire County Council and some other local authorities.
SADC's Policy Committee agreed the mitigation strategy at its meeting along with the Jersey Farm Open Space plans.
The strategy includes a range of measures that will be introduced at Ashridge Estate over a period of at least 80 years.
In addition, it includes plans to create or enhance Suitable Alternative Natural Green Spaces – such as the Jersey Farm Open Space – to attract people away from Ashridge.
Cllr White added:
We are pleased to be doing our bit to help preserve Ashridge Estate's woodlands which I know are extremely popular among our residents.

We have many alternative green spaces in our District and the significant improvement of another one at Jersey Farm will provide residents with even more recreational opportunities.

The money to fund this will come from a charge that companies will have to pay for new residential developments in recognition of the extra demand that will place on our green spaces. So, Jersey Farm will come at no cost to the Council and our residents.
The Jersey Farm Open Space lies about 3km north-east of St Albans City Centre within the parish of Sandridge.
It is bordered to the east by House Lane, to the south and west by the Jersey Farm residential area and to the north by agricultural land.
Media Contact: John McJannet, Principal Communications Officer, 01727 819533, john.mcjannet@stalbans.gov.uk.