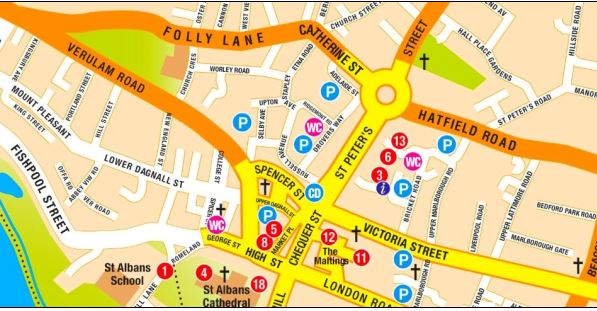 Special meeting on pedestrianisation proposals
A special meeting to discuss the possible long-term pedestrianisation of six streets in St Albans City Centre is to be held.
The High Street, George Street and Market Place have been closed to traffic temporarily during the pandemic to allow outdoor dining, a temporary Friday Pop Up Market and more space for social distancing.
Now Hertfordshire County Council (HCC) – the highways authority – is considering whether to make these closures permanent.
Spencer Street and Upper Dagnall Street have also been closed for the past year and Waddington Road may also be included in any permanent closure scheme.
HCC is currently undertaking a survey to obtain the views of residents across the District along with local businesses and other organisations. 
St Albans City and District Council's Overview and Scrutiny Committee was informed about the consultation at its meeting on Thursday 17 June.
Due to the multifaceted impact of such permanent closures, Councillors agreed to hold a special meeting of the Committee to discuss the findings of the survey after it closes on Sunday 11 July.
They have asked for a report on the feedback and any proposals to remodel the City's road system.
The Committee has asked for relevant data - such as displaced traffic statistics, consequential new route choices and city centre visitor numbers during the temporary pedestrianisation - to be provided.
Pedestrianisation has also been promoted as a way of encouraging greener travel, getting people out of their cars and walking, cycling and using more public transport.
The Committee will invite HCC's Active Travel Team to attend the special meeting so they can ask them about future plans in this policy area.
Councillor Annie Brewster, the Committee's Chair, gave a personal presentation to the meeting about what she saw as they key issues involved with long-term pedestrianisation.
Afterwards, she said:
This is a hugely important issue for both those living within the city and those who visit us.

Pedestrianising these streets has created a welcome, safe, relaxed atmosphere and may already have prompted new behaviours like more walking and cycling. They have given the opportunity for additional outside dining, potentially better footfall for some shops and businesses, and have enabled more street markets.  More space has been available in the city centre for pedestrians, and social distancing has been made easier. 

It has also meant some people may have struggled to get to shops and cafes with the removal of a number of disabled parking bays, trade and delivery operations in some businesses may have been made more difficult, and some roads elsewhere may have seen an increase in car movements. I have received some feedback to suggest it has discouraged some people from coming into St Albans due to congested traffic, and fire and ambulance services have been impacted.  The knock-on effects on environmental pollution are unknown and need assessing.

One can see how complicated this major decision is. Therefore, I am very pleased the closing date of the survey has been extended to 11th July so the link to the survey can be shared with St Albans City and District's households via the Council's magazine, Community News. 

Receiving residents' local intelligence and informed opinion is important so I urge everyone to take part in the survey. Clearly no one wants a repetition of the City's  one-way scheme abandoned some years ago. Any changes should improve our city's prosperity and environment.
The online survey closes on Sunday 11 July and can be found at https://www.hertfordshire.gov.uk/highstreetrecovery .You can also email your views to highstreetrecovery@hertfordshire.gov.uk or phone 0300 123 4047.
To view a webcast of the meetinggo to: https://stalbans.public-i.tv/core/portal/webcast_interactive/578613.
Councillor contact: Cllr Annie Brewster, Chair of the Overview and Scrutiny Committee: 01438 832255, cllr.a.brewster@stalbans.gov.uk.
Media contact: John McJannet, Principal Communications Officer: 01727-819533;  john.mcjannet@stalbans.gov.uk.