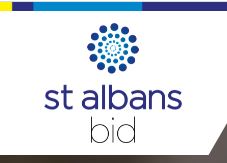 St Albans Bid ballot – the result
The result of a ballot to decide whether a Business Improvement District (BID) in St Albans should continue for a further five years has been announced.
The result was 95 votes in favour and 50 against on a turn-out of 32.2%.
The rateable values added up to £6,147,250 for the BID and £2,327,000 against it.
Both a straight majority and a majority based on rateable values were required for the BID proposal to succeed.
The result means St Albans BID will resume its work for a maximum of five years from this April. A further ballot will be required for it to continue after that date.
Voting forms for the ballot were sent out on Tuesday 4 January 2022 and the poll closed at 5pm on Thursday 3 February 2022.
Around 450 businesses and other bodies in the designated BID area around the City Centre were eligible to vote.
St Albans City and District Council managed the process on behalf of BID which is an independent organisation.
The BID's area includes St Peter's Street, the High Street, Chequer Street and Holywell Hill.
The zone also takes in two shopping centres - The Maltings and Christopher Place - along with the Cathedral and the Council's offices. 
Among the businesses involved are shops, estate agents, law firms, cafés, restaurants, pubs, hairdressers and hotels. 
Businesses will continue to pay a BID levy of 1.8% of their rateable value. Those with rateable values of £12,000 or less will be exempt. 
  
Contact for the media: John McJannet, Principal Communications Officer, St Albans City and District Council:  01727 819533; john.mcjannet@stalbans.gov.uk