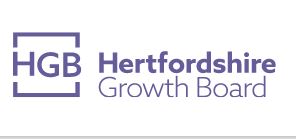 St Albans City and District Council latest to support new joint committee for good growth
St Albans City and District Council is the latest of 11 councils on the Hertfordshire Growth Board to officially announce its support for the new statutory joint committee.

Building upon the success of the Growth Board collaboration over the last two years, the new committee, made up of Hertfordshire Council Leaders and Chair of the Local Enterprise Partnership, will work within a democratic framework in all its future decision making. 

This increased openness and transparency in the meetings of the Growth Board will provide a means for businesses, stakeholders and residents to understand how the work of the Board will support the delivery of good growth with long-term benefits for Hertfordshire.

Councillor David Williams, Leader of Hertfordshire County Council and Chair of Hertfordshire Growth Board, said:
The joint committee is a positive step and an important evolution of the Growth Board governance. The County Council supports the work of the Growth Board and its commitment to ensuring residents, businesses and stakeholders are part of the county's Growth journey, from meetings right through to delivery. We welcome the increased openness and transparency this joint committee will bring.

 
Councillor Chris White, Leader of St Albans City and District Council, said:
We're pleased to support the establishment of the joint committee which should give greater impetus to the work of the Hertfordshire Growth Board."The more involved district councils are, the more in touch the Board will be with the local employment, transport and infrastructure needs of people from across the whole County.
Hertsmere Borough Council, Dacorum Borough Council, North Hertfordshire District Council, Broxbourne Borough Council, Three Rivers District Council, Hertfordshire County Council, Hertfordshire Local Enterprise Partnership, Welwyn Hatfield Borough Council and Watford Borough Council have all given their formal support for the new joint committee.

About Hertfordshire Growth Board
Hertfordshire Growth Board is the way the county is now working together to manage growth. With the Hertfordshire population expected to rise by up to 175,000 by 2031, at least 100,000 new homes and jobs will need to be created over the same period. This brings opportunities and challenges. Hertfordshire Growth Board is ready to respond.

Hertfordshire Growth Board is made up of the County Council, the 10 district and borough councils and Hertfordshire Local Enterprise Partnership. Working together is how we continue our 'joint' success and create opportunities for everyone, now and in the future. Keep up to date with our progress: www.hertfordshiregrowthboard.com, and follow us on Twitter @hertsgoodgrowth

Media Enquiries: Lucy Gravatt, Communications Lead, Hertfordshire Growth, Hertfordshire Growth Board: 07747 762698 E. lucy.gravatt@hertfordshirelep.co.uk