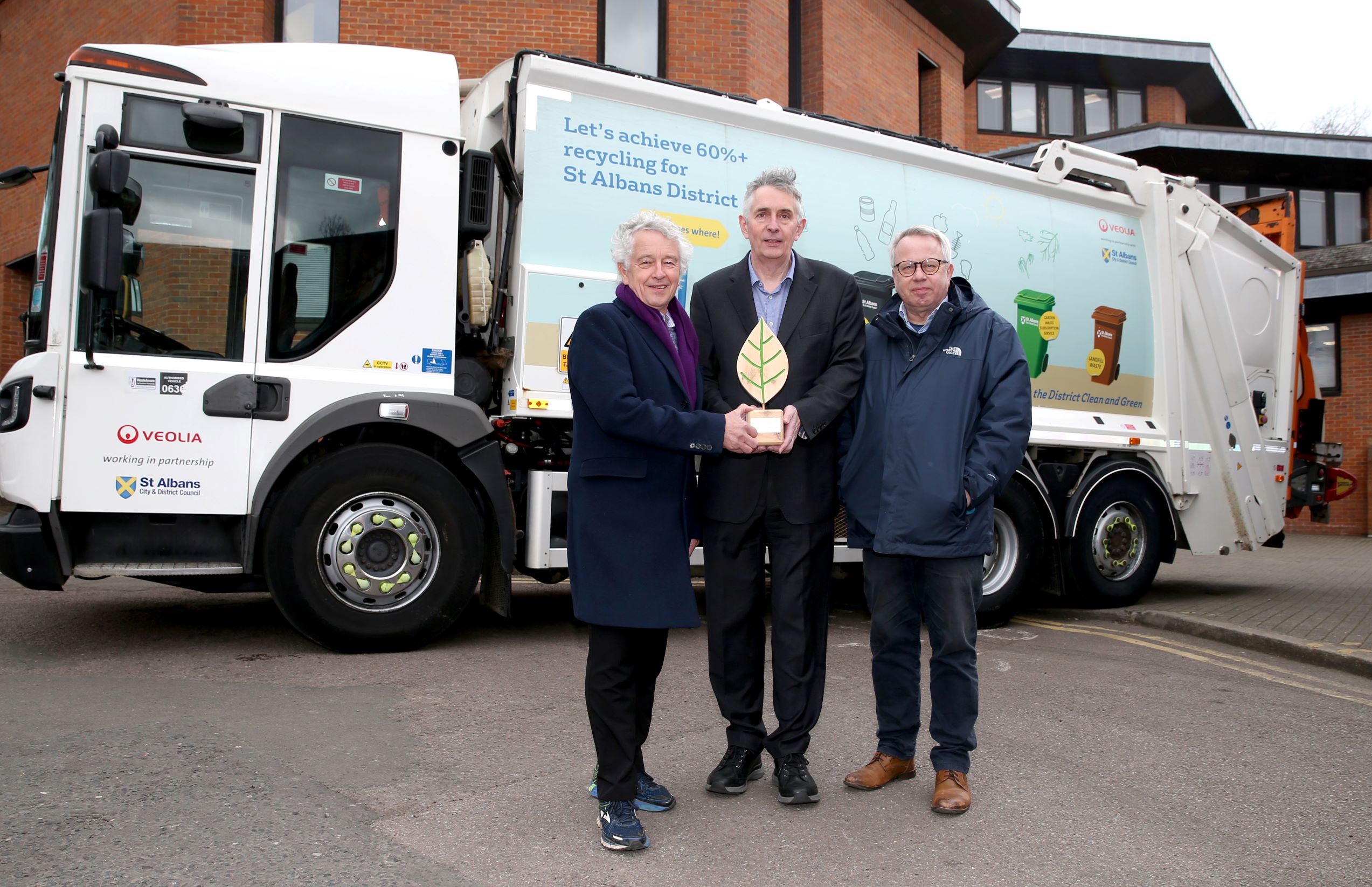 St Albans City and District Council Receives Recycling League Champions Trophy
Table-topping St Albans City and District Council in Hertfordshire has been presented with the trophy for being the highest performing council in England for recycling in 2020/21.
According to the Department of Environment, Food and Rural Affairs St Albans was the best local authority for recycling in the 2020/21 financial year, with a rate of 64.2%.
St Albans City and District Council was praised for its achievement by Resources and Waste Minister Jo Churchill.
Minister Churchill said:
St Albans City and District Council's series of new initiatives from textiles to battery collections are an excellent example for local authorities to follow to meet their residents' high demands for recycling.

 Local councils are crucial in supporting our ambitions to recycle more of our waste and we are making good progress: less than 8% of waste went to landfill last year.

 But we must do more, and our new Environment Act will transform the way we deal with rubbish. We will introduce consistent recycling collections, create a deposit return scheme for drinks containers, and encourage producers to use more recyclable packaging so that we can better protect the environment for future generations.
Receiving the trophy on 11 March, Cllr Councillor Anthony Rowlands, Chair of the Public Realm Committee of St Albans City and District Council said:
We're thrilled at being presented with the Letsrecycle Trophy for being top of the recycling league table.

We've been hoping to win this for a few years now with our performance having improved steadily for eight years in a row.

This is testament to all the hard work our waste management team together with our contractor Veolia have put into our efforts to improve the recycling rate.

Enormous praise is also due to our residents who clearly share our passion for recycling as they know it conserves precious resources and helps the environment by reducing the need to use landfill dumps.

As a Council, our number one goal is tackling climate change and recycling is very much part of that agenda.

We will continue to look at ways of further improving our recycling rate and hopefully win this trophy again next year.
Andrew Reidy, General Manager for the Council's waste contractor Veolia, said: 
Since commencing our partnership with St Albans District Council in 2016 we have jointly celebrated a 12% rise in annual recycling rates to bring the district to the top of the league table. I am proud of our team's contribution to this landmark achievement.

Thank you to all of the residents in St Albans for the commitment you have shown to reduce, reuse and recycle your waste, we look forward to continuing our work with you in the future.
Steve Eminton, the editor of waste management publication letsrecycle.com, presented the council with the trophy.
He remarked:
This is an excellent achievement by St Albans. Getting above 60% is a tough thing to do especially with the challenge of extra residual waste during the pandemic. The results show that the council has residents on board and the support of councillors, council officers and Veolia's collection crews means recycling is going well across the District.
The leaf trophy is made by the Community Wood Recycling charity from reclaimed construction site wood.
This is the first time that St Albans has had the highest recycling rate in England although Hertfordshire also boasted the highest performing authority in the previous year: in 2019/20 Three Rivers District Council was top at 64.1%.
In 2020/21 South Oxfordshire district council had the second highest recycling rate at 63.6%, while the champions of 2019/20 – Three Rivers – completed the top three with a rate of 63.1%.
Pictures: top – from left to right, Cllr Rowlands, Steve Eminton, Cllr White.
Bottom - Councillors and staff receive the trophy from Letsrecycle Editor Steve Eminton. From left to right: Jane Parker, Principal Waste Contracts Officer, Cllr Anthony Rowlands, Chair of the Public Realm Committee, Steve Eminton, Letsrecycle Editor, Cllr Chris White, Council Leader, Amanda Foley, Chief Executive, Louise Palmer, Recycling Officer.
Further information is available from:
St Albans City and District Council: 01727 819533,  john.mcjannet@stalbans.gov.uk.
Veolia: 07721 238278 pressenquiry.vesuk@veolia.com
Letsrecycle.com:  Alistair McQueen, Marketing Manager, Alistair.m@letsrecycle.com 020 7633 4500