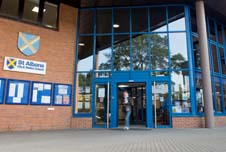 St Albans District moves up national league table for recycling
St Albans City and District Council is in sight of becoming one of the top ten recycling local authorities in England.
Newly-released Government figures for the year to the end of March 2018 show the Council has jumped to 13th in a table of 350 local authorities.
That means it has moved up 13 places from last year's 26th position, overtaking a host of other councils.
Its annual recycling rate – as measured by weight – increased to 59.5% from the previous year's 57.5%. 
East Riding of Yorkshire held on to first place with a rate of 64.5% while the overall recycling rate for England was 44.8%.
Since March last year, there has been further improvement in St Albans Council's performance.
The annual recycling rate hit 60.3% for the year to the end of May 2018. This was the first time the Council reached its target, set in 2016, of 60%-plus in a 12-month period.
This increase follows a campaign to encourage more food recycling, targeted at areas where the take-up was relatively low.
With its waste contractor Veolia, the Council also continued its efforts to discourage residents from putting out side waste – bags of excess rubbish placed beside the brown landfill bin.
It is the Council's policy not to take side waste with research showing that households producing it are often filling their brown bin with food scraps and other recyclable waste.
The brown bin has the capacity to cope with the non-recyclable waste of all but a handful of households.
Councillor Frances Leonard, Portfolio Holder for the Environment, said:
The new waste collection regime that was rolled out in the summer of 2016 continues to be a great success thanks to the support of our residents.

We set an ambitious target of a 60%-plus recycling rate which we have now achieved and we will be looking to continually improve on that.

It is very pleasing that we are now 13th in the recycling league table and we will be trying to move up a further few places in the year ahead.

Recycling conserves resources, protects the environment and saves the Council Tax payers money with landfill becoming increasingly expensive.
Councillor contact:
Cllr Frances Leonard,
Portfolio Holder for the Environment for St Albans City and District Council.
Tel:  01727 861860
Email: cllr.f.leonard@stalbans.gov.uk
Contact for the media: 
John McJannet,
Principal Communications Officer,
St Albans City & District Council 
Tel: 01727 296130
Email: john.mcjannet@stalbans.gov.uk 
Note:
The league table can be viewed here: www.gov.uk/government/statistical-data-sets/env18-local-authority-collected-waste-annual-results-tables.