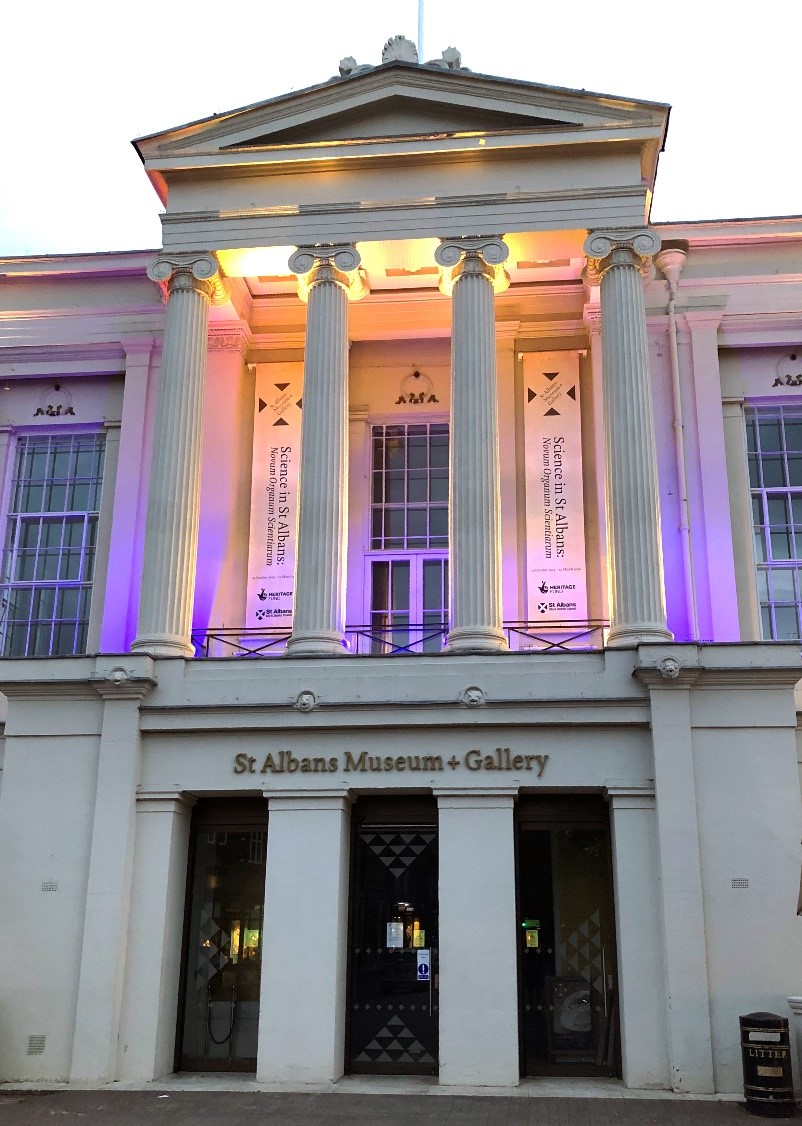 St Albans Museum + Gallery Lit Up in Blue and Green for NHS And Carers
St Albans Museum + Gallery has been lit up in blue and green to show ongoing support for frontline workers dealing with the Coronavirus outbreak.
Although the last Clap for Carers took place at the end of May demonstrating sustained support for NHS staff, social care workers and others working on the frontline remains a priority for St Albans City and District Council.
The loosening of lockdown has enabled the Museums Service to facilitate this show of support.
Councillor Anthony Rowlands, Portfolio Holder for Leisure, Heritage and Public Realm said:
It is now more important than ever to let those keyworkers know that we are behind them.

We thank all carers, NHS staff, social workers and other professionals as they continue to work tirelessly to provide crucial assistance to the most vulnerable in our community.
Councillor Contact: Councillor Anthony Rowlands, Portfolio Holder for Leisure, Heritage and Public Realm, St Albans City and District Council.
Email: cllr.a.rowlands@stalbans.gov.uk; Tel: 07761 232064
Media contact: Farhana Begum, Museums Business Manager, St Albans Museums. Email: farhana.begum@stalbans.gov.uk, Tel: 01727 814638
About St Albans Museum + Gallery
St Albans Museum + Gallery is the newest addition to the collection of cultural heritage sites managed by St Albans Museums. It joins Verulamium Museum, the Hypocaust, the medieval Clock Tower, Sopwell Ruins and the thousands of objects in the City's collection in being cared for and shared with the world. Set to be a world-class centre for arts and culture at the heart of one of Britain's most historic cities, St Albans Museum + Gallery is free to all visitors. It showcases over 2,000 years of priceless heritage and hosts cutting-edge art exhibitions, sharing local, national and world treasures with all. For more information, visit www.stalbansmuseums.org.uk