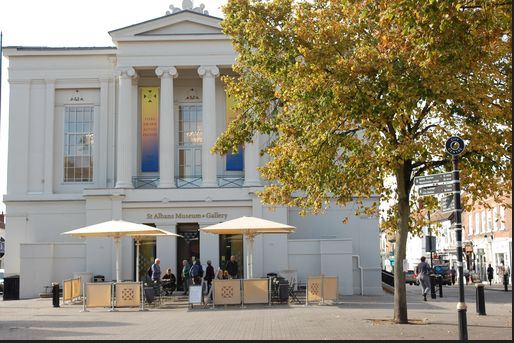 St Albans Museums win £1m-plus funding from Arts Council England; Strategic Plan published
St Albans Museums Service has been awarded more than £1 million of funding from Arts Council England which has commended the quality of its exhibitions and other work.
The money will help the Museums Service deliver its newly-published Strategic Plan that aims to make further improvements over the next three years.
St Albans City and District Council (SADC), which owns the Museums Service, applied for National Portfolio Organisation (NPO) funding from Arts Council England.
To win the award, the Museums Service had to demonstrate its artistic and cultural output was of the highest standard as well as show commitment to diversity and sustainability.
It now has coveted NPO status along with other prestigious national and regional organisations including the London Transport Museum, the Royal Opera House and Birmingham Royal Ballet.
A meeting of SADC's Public Realm Committee on Thursday 10 November was told of the successful bid and award of £351,375 for each of the next three years.
Councillor Allison Wren, Lead Councillor for Museums, said afterwards:
This is a major achievement and I congratulate our Museums team.

There were many other organisations competing for the funding so we had to show we have something special here in St Albans.

The Museum and Gallery has made fantastic progress since it opened four years ago. Recently there have been the outstanding Frederic Kitton and St Albans At Sea exhibitions.

Next month, an exciting new Henry Moore exhibition will open which will further enhance the growing reputation of the Museum and Gallery along with our other attractions such as Verulamium Museum.
The Committee endorsed the new Strategic Plan which covers both Museums as well as the Clock Tower, Sopwell Nunnery and the Roman Wall and Hypocaust in Verulamium Park.
The strategy contains a forward plan "to make a significant difference to our communities," including a series of ambitious targets for the years 2023 to 2026. Among the aims for that period are:
30% of exhibitions and displays to be co-curated with local groups.
50% of research projects to be led by a community group or resident working with a diverse pool of local residents.
More than 50,000 school-aged children to engage with learning programmes.
More than 300,000 visitors per year to be attracted to the Museum sites.
A plan for the redevelopment of Verulamium Museum, the showcase for the City's Roman history, to be created.
The Museums to contribute over £4 million to the local economy through attracting visitors to the District.
Cllr Wren added:
This is a very impressive document which sets out the ideas and principles that underpin our Museums Service. I urge anyone with a passion and interest in our local culture to read it.

What really excites me is the vision for the future which shows that we are committed even in these challenging economic times to further develop our Museums.

We have set ourselves a number of ambitious targets that our Museums team will be working flat out to achieve for the benefit of our residents and visitors.
The strategic plan can be viewed in full here.
Contact for the media: John McJannet, Principal Communications Officer: 01727-819533,  john.mcjannet@stalbans.gov.uk.