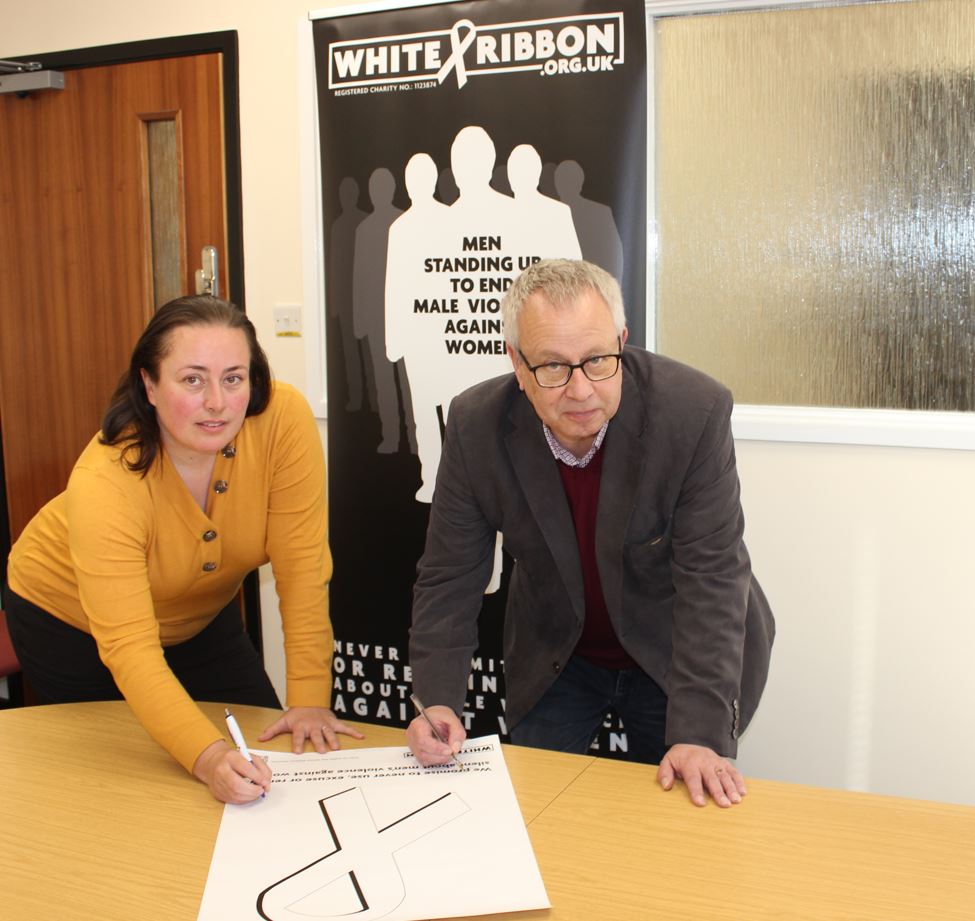 St Albans City and District Council is supporting White Ribbon Day on Friday 25 November – a campaign that aims to end male violence against women.
Councillors Chris White, the Council Leader, and Jacqui Taylor, Chair of the Housing and Inclusion Committee, signed the White Ribbon promise in the run up to the event.
This is a commitment to raise awareness about male violence against women and never to remain silent about the issue.
The Council gained White Ribbon status earlier this year and pledged to ensure women across the District who experience violence know that help is available.
Cllr White said:
We were accredited with White Ribbon status earlier this year. As part of our efforts to raise awareness, we are backing White Ribbon Day and I was delighted to sign the White Ribbon promise on behalf of the whole Council.

We will continue to work to raise awareness, educate and campaign to end violence against women and bring about significant change.
The Council's Museum + Gallery will be lit up in orange on White Ribbon Day and over the weekend. The colour symbolises a brighter future free of violence.
The St Albans and District branch of Soroptimist International, a global women's organisation, asked for this to be done as part of their Orange the World campaign.
This will include 16 days of activism to end gender based violence from White Ribbon Day to Saturday 10 December.
Cllr Taylor said:
Lighting up the Museum in this way is a further demonstration of our commitment to the White Ribbon cause.

We are sure residents across the District will support this gesture and mark White Ribbon Day themselves in some way.

They can, for instance, go online and take the White Ribbon promise - tens of thousands have done so - while organisations can follow our example and apply for White Ribbon status.
St Albans City FC are among local groups and organisations supporting White Ribbon Day.
They will take part by flying the White Ribbon flag during their home match at Clarence Park against Bath City on Saturday 26 November.
White Ribbon UK is part of a global movement aimed at bringing a halt to violence against women.
The Council's Principal Community Protection Officer Neil Kieran has become one of White Ribbon UK's Ambassadors, volunteers who promote a culture of equality and respect within their workplace and beyond.
You can take the White Ribbon Promise here and find more information about White Ribbon Day here.
Contact for the media: 
John McJannet, Principal Communications Officer: 01727 819533, john.mcjannet@stalbans.gov.uk.