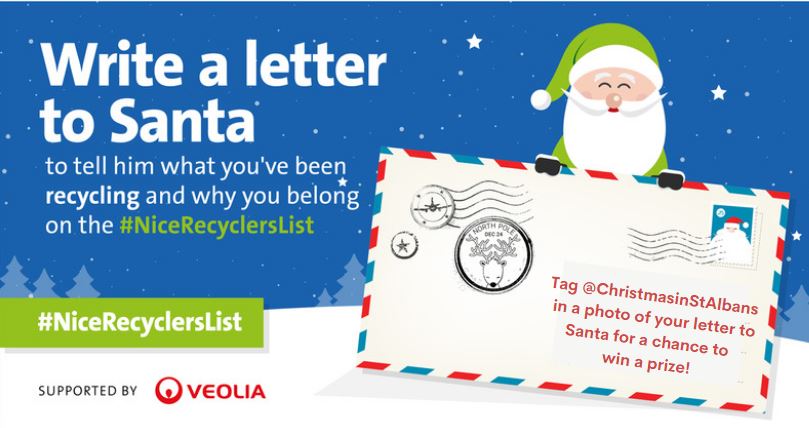 Tell Santa why you belong on the #NiceRecyclersList and win a £40 St Albans gift card
Santa has been in touch with Veolia and St Albans City and District Council to find out which children living in St Albans have been recycling correctly this year, so he can put their names on the #NiceRecyclersList.
To ensure no child is missed, Veolia and the Council are asking children to take part in their #NiceRecyclersList competition.
Kids are invited to write a letter to Santa to tell him about their recycling deeds for the year, the ways they've positively contributed to the environment, and how they'll help to protect the future of our planet.
All letters will be shared with Santa, but the most inspiring one will also feature on Facebook and Instagram pages and will win a £40 St Albans gift card to spend at over 80 stores in St Albans City Centre.
Veolia carries out recycling and waste services and street cleansing activities on behalf of the Council.
Throughout the year, thousands of local children have shown their love for recycling by putting the right things in the right bins, and waving at recycling and waste collectors while they worked to keep the community clean.
Santa wants to celebrate all of these children for recycling regularly and doing their bit to look after the local environment.
To enter the competition, grown-ups are asked to post a picture of their child's letter on Facebook, tagging @VeoliaUK and @ChristmasinStAlbans or Instagram, tagging @VeoliaUK and @ChristmasinStAlbans, with #NiceRecyclersList. They should also include the child's name, age and the area they live.
The competition will run from 30 November to 20 December and Veolia will work with Santa to choose the most creative letter to be published in the local newspaper.
Lee Myers, Veolia Contract Manager said:
Our crews see lots of little recyclers during their daily rounds, all of which have enthusiastically put out their recycling bins for collection every week. We want to ensure that Santa knows how sustainable St Albans children are, so they can be added to the #NiceRecyclersList this year.

We look forward to receiving the letters, where children can put in their own words how much they love recycling and tell Santa all about their wishes for a better environment. We hope this indoors activity will help spread some Christmas cheer, and we wish everyone in St Albans a safe and Merry Christmas.
Councillor Chris White, Leader and Portfolio Holder for Climate, Environment and Transport, said:
This is a fun way for young children to take an interest in the highly important issue of recycling. We're one of the top 10 local authorities in England for recycling and we want to make sure that future generations continue being actively involved in conserving resources and protecting our environment. This competition will help to ensure that.
Learn more about what it takes to be on the #NiceRecyclersList and how to take part in the competition here: https://www.veolia.co.uk/london/nicerecyclerslist
Contact for the media: Oliver Peat, 07880 444036, oliver.peat@veolia.com