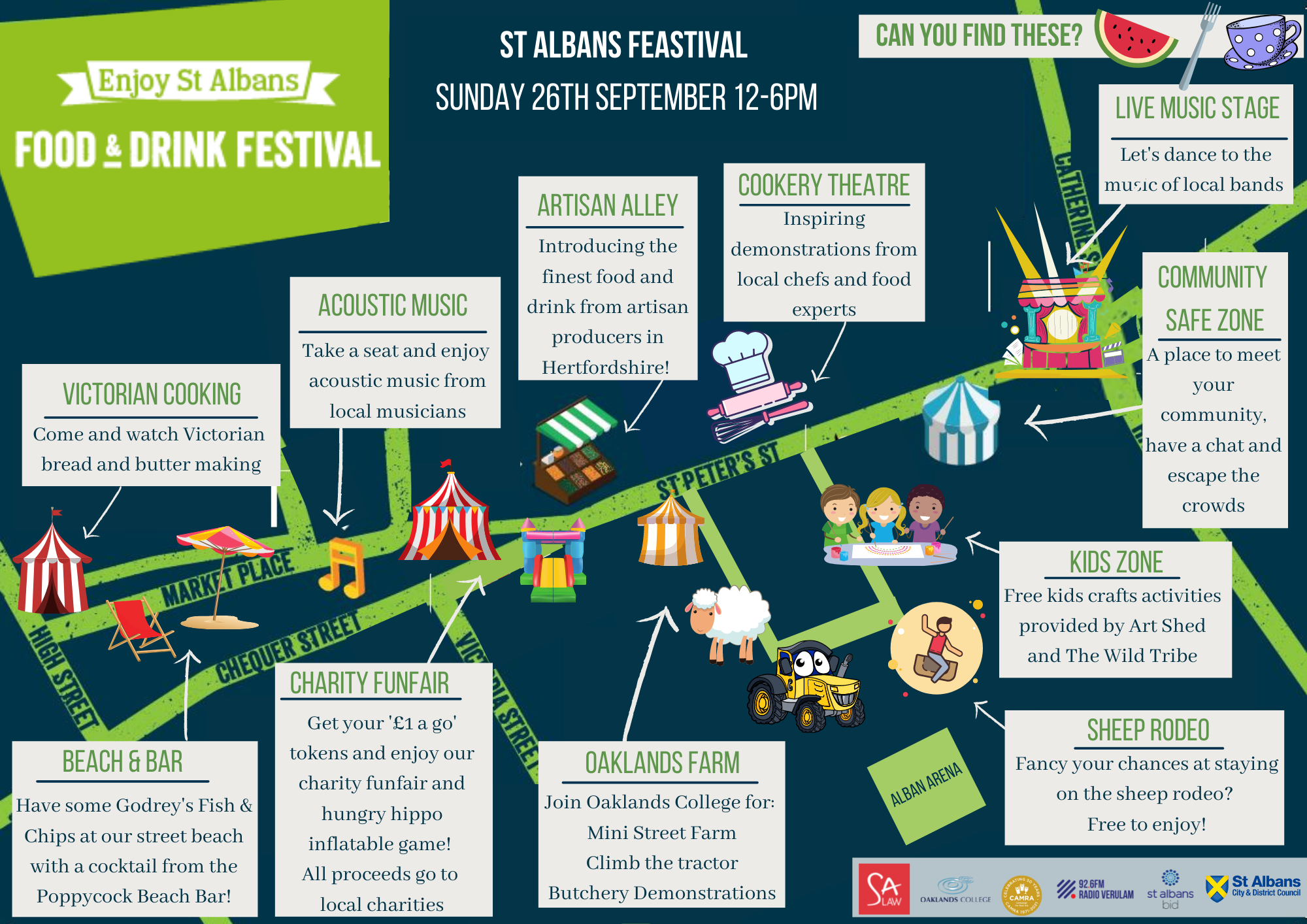 Thousands expected at six-hour long City Centre street party
Thousands of people are expected to enjoy the return of the signature dish of the Enjoy St Albans Food and Drink Festival – a six-hour-long street party.
The City Centre will be taken over on Sunday 26 September for the family event that was cancelled last year because of the Covid pandemic.
Among the attractions will be more than 70 stalls to showcase products such as craft beers, flavoured gins, cheeses and cakes, highlighting many local suppliers, traders and hospitality businesses.
There will also be a cookery theatre featuring demonstrations of culinary skills by some of the District's finest chefs and a Kids' Zone with free arts and crafts activities.
Also included are a charity fun fair, a sheep rodeo, a beech and bar and demonstrations of Victorian cooking methods such as bread and butter making.
To add to the vibrant atmosphere, live music will be provided by some of the District's most talented musicians from two separate stages.
The St Albans Feastival is centred on St Peter's Street, Market Place, the High Street and the public space by the Alban Arena with the party starting at noon and continuing until 6pm. 
Many of the activities are free and further details as well as information about other Festival events can be found here: https://www.enjoystalbans.com/.
The Food and Drink Festival, now in its 14th year, is organised by St Albans City and District Council with the help of a steering group and a number of partners including SA Law and St Albans BID (Business Improvement District). Its aim is to promote all aspects of the District's important food and drink industry.
Councillor Mandy McNeil, Vice Chair of the Council's Business and Regeneration Committee, said:
This street feastival is one of the biggest City centre events of the year. It is fantastic that it is returning to lift people's spirits.

I'm sure there will be a wonderful attendance from residents as well as visitors to our City who will be able to see just how good the District's food and drink businesses are.

The hospitality sector is of great importance to our economic recovery. It contributed towards £150 million of visitor spend to our local economy in 2019, providing jobs and attracting tourists. This event is a showcase for the industry as well as showcasing St Albans.

It's an exciting occasion for people of all ages and backgrounds who want to experience new tastes, learn new kitchen skills and to just have some fun. There's something for everyone. It  makes for a great day out for the whole family and I urge people to come along and show their support for our food and drink businesses which have played a big role in supporting our community during Covid.
As a precaution against Covid, the event site has been extended to the High Street and near the Alban Arena to allow for more space.
Key parts of the site will be sprayed with protective solutions with a team of cleaners on duty all day. There will also be  multiple hand sanitiser stations and free disposable face masks.
Cllr McNeil said:
We are taking a wide range of measures to guard against the persistent threat of the virus.

We are encouraging people to take necessary precautions, such as making use of the available hand sanitisers, and would ask anyone suffering from any Covid symptoms not to attend.
Among the other Food and Drink Festival highlights are the Harpenden Food Festival on Saturday 18 September, noon to 4pm, which is organised by Harpenden Town Council.
This will be similar to the St Albans Feastival with food and drink stalls, cookery theatre, live music and other attractions.
Oaklands College is holding a Farm to Fork event at its Hatfield Road campus on Saturday 18 September, 10am to 3pm, when visitors will be able to see their livestock and buy fresh produce.
The Fleetville Food Festival is on Sunday 19 September, noon to 6pm at the Fleetville Recreation Ground, Hatfield Road. Entry is free and among the attractions are street food stalls and live entertainment including Bollywood dancers.
The Food and Drink Festival will finish with the Real Street Food Night on Thursday 30 September, 4pm to 8pm, with food stalls and a DJ in Market Place.
Cllr McNeil said:
Our District is really buzzing with Ricky Gervais holding a sell-out show at the Alban Arena and Tom Kerridge's Pub in the Park at Verulamium Park following on from the Comedy Garden that was held there this summer.

The Enjoy St Albans Food and Drink Festival is further evidence that the District has become an outstanding location for culture and entertainment.
Picture: scene from the 2019 street festival.
Councillor contact: Mandy McNeil, Vice-Chair of the Business and Regeneration Committee: cllr.m.mcneil@councillor.stalbans.gov.uk; 07854-198999.
Media contact: John McJannet, Principal Communications Officer: 01727 819533, john.mcjannet@stalbans.gov.uk.