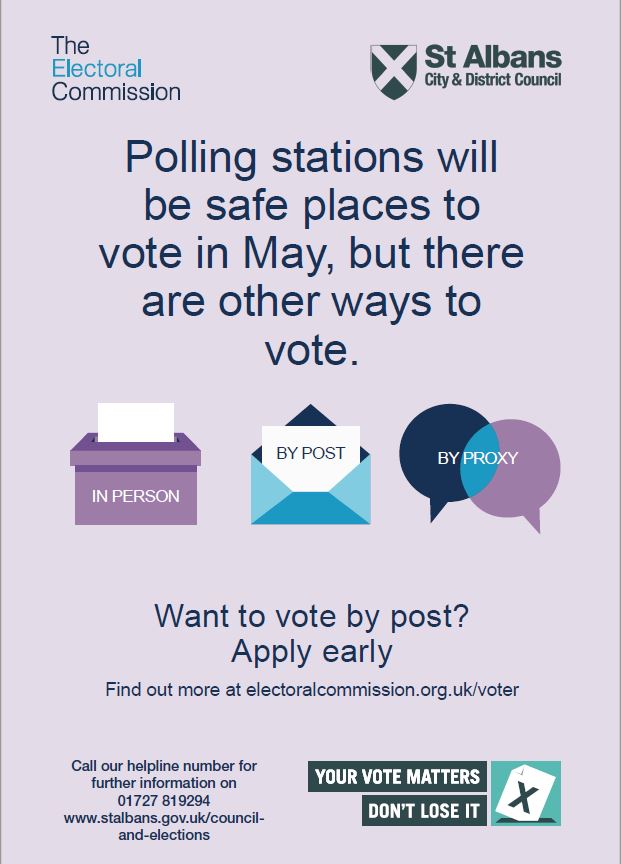 Voting safely at next year's elections
Measures will be taken to ensure St Albans District residents will be able to vote safely at next year's local elections.
Plans include providing polling stations with supplies of hand sanitiser to guard against COVID-19 and putting social distancing marks on floors.
The elections on Thursday 6 May are for 18 of the 58 seats on St Albans City and District Council. All 18 wards, apart from Colney Heath and Sandridge, are involved.
There are also elections for all Hertfordshire County Council seats, the post of Hertfordshire Police and Crime Commissioner and a by-election in the Colney Heath ward of Colney Heath Parish Council.
Residents of Sandridge Parish Council may also vote in a referendum on a neighbourhood plan for the area, subject to the plan proceeding to this stage as expected.
Amanda Foley, Electoral Registration Officer for St Albans City and District Council, said:
All the elections that are being held next year are very important.

They're an opportunity to make your voice heard and have a say on who represents you on issues that directly affect day-to-day life here in St Albans District.

We're thinking about these elections now so that, however you choose to cast your vote in May, you can do so safely. We're putting arrangements in place to help you stay safe at the polling station.

You can expect many of the measures you've become used to in shops over recent months, such as hand sanitiser, floor markings and face masks. But you also have the option to apply to vote by post or by proxy.
Ailsa Irvine, Director of Electoral Administration and Guidance at the Electoral Commission, said:
The choice on how to vote at next May's elections is yours – you can have your say in person, by post or by proxy.

If you're thinking about voting by post, you can apply now. This will make sure your application is processed early, and your postal vote can be sent to you more quickly.
For information about how to apply for a postal or proxy vote, go to: www.electoralcommission.org.uk/i-am-a/voter.
If you are not registered to vote at your current address, you can do so online at www.gov.uk/register-to-vote.
Media contact: John McJannet, Principal Communications Officer, St Albans City District Council: 01727-819533,  john.mcjannet@stalbans.gov.uk.