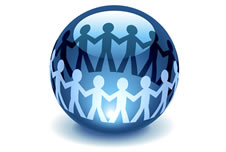 Youth council forges ahead
Newly-appointed Youth Commissioners from the St Albans District are to help improve services for young asylum seekers and children in or leaving care.
In a new initiative, they will undergo training for the role next month and then begin the work of developing support services for the three target groups.
The move was announced by the St Albans Youth Council (SAYC), a body of people aged between 11 and 19 who seek to give a voice to the young.
Six SAYC members gave a briefing about their work to a meeting of the Local Services Scrutiny Committee of St Albans City and District Council on Thursday 10 December.
Among their successes was the creation of Youth Health Champions who were tasked with the role of raising awareness of key issues among the young.
The Champions helped educate school children about the dangers of alcohol, drink spiking and the risk of stress at exam time.
Now some of the 15 Champions are to become Youth Commissioners next year and work with local authorities on the provision of services for vulnerable children.
The project will be County-wide and supported by Hertfordshire County Council Youth Connexions. It will involve Youth Commissioners from other districts as well as other young people with challenging life experiences.
Support worker Debi Roberts, who co-ordinates the activities of Youth Councils across the District, said: "This is a very innovative practice and we are very excited about it."
SAYC members also briefed Councillors about their work over the past few years on mental health.
They drew up a report in 2012 about mental health services for the young that showed many young people with problems did not know who to turn to.
The report led to invitations to attend UK and international conferences on the issue, stage workshops, address school assemblies and take part in national campaigns.
SAYC also staged a green careers fair and fashion competition focused on sustainable industries last month.
They have also highlighted the issue of Conflict Minerals, raw materials that come from war-torn countries and are being sold to fund the fighting.
The SAYC delegation also showed Councillors a video of a Christmas Tea Party they held for elderly and isolated people in Redbourn last year.
They baked cakes, wrapped presents, played music, held a quiz and generally entertained their guests.
Recently, they entertained 50 elderly people at Roundwood Park School, Harpenden and will be hosting a tea party there on Wednesday 16 December.
Councillor Anthony Rowlands, Chair of the Local Services Committee of St Albans City and District Council, said: "The Committee felt the work the Youth Council do is deeply inspiring.
"Their briefing to Councillors highlighted how the young generation can teach older generations a great deal.
"As the Mental Health Champion for the City and District of St Albans, I was particularly impressed by the work they have done on the vital issue of mental health services for the young.
"They are helping to bring about real improvements in services and raise awareness among the young.
"The creation of Youth Commissioners is an exciting, new initiative that will further involve young people in developing services. It is an excellent idea."
Councillor contact:
Councillor Anthony Rowlands, Chair of the Local Services Scrutiny Committee of St Albans City & District Council. Tel: 07761-232064 Email:  anthonyrowlands@hotmail.com
Contact for the media:
John McJannet, Principal Communications Officer, St Albans City and District Council
Tel: 01727 296130 
E-mail: john.mcjannet@stalbans.gov.uk
Follow us on Twitter: https://twitter.com/StAlbansCouncil