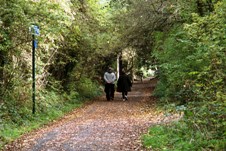 Alban Way five-year improvement plan completed
A long-term project to improve the Alban Way, a route used by walkers, cyclists and horse riders linking St Albans to Hatfield, has come to fruition.
Over five years, major improvements have been made to the St Albans's section of the 6.5-mile route that runs along a former railway line past Smallford Station Ticket Office.
The work was undertaken in line with St Albans City and District Council's five-year Alban Way Greenspace Action Plan (GAP). It was managed by Hertfordshire County Council's Countryside Management Service (CMS) on behalf of and in partnership with the District Council.
The latest improvements have entailed restoring several platforms along the St Albans's stretch of the Alban Way and providing them with station name signs. Railway-themed fencing and gates have also been installed at various points and the car park at Smallford Station renovated. 
This paves the way for the Smallford Station and Alban Way Heritage Society to proceed with its plan to restore the privately-owned former ticket office and create a Heritage Centre.
Other work includes the implementation of a programme of woodland management that has opened up the once dark and shaded route. This has created a green corridor of plants and trees, enabling this natural habitat for wildlife to thrive. 
The route was resurfaced at the start of the project and access steps repaired and replaced where needed.
New signage and interpretation boards have been installed, highlighting historical features as well as resident plants, birds, insects and mammals. 
The project has attracted Section 106 money provided by developers of new housing locally, as well as sustainable transport funding from central government.
Volunteers have played a major role in making the improvement project a success. Large numbers of CMS conservation volunteers have given up their time, working on a variety of tasks including planting hedges, cutting back vegetation and installing signs and interpretation panels.
An update on the project was given to Cabinet at a meeting on Thursday 19 July.
Cllr Frances Leonard, Environmental Portfolio Holder for St Albans City and District Council, said:
These improvements to the Alban Way go a long to ensuring users are able to enjoy the route and its heritage for years to come. The Alban Way is an important link in the local sustainable transport network, providing people with a green traffic-free alternative to the road. It is also used by walkers, cyclists and horse riders for leisure purposes.

The work does not stop however. A new Greenspace Action Plan for the Alban Way is about to be developed to cover the next five years. As part of this process, we will be inviting the public later this year to put forward ideas for further improvements.
The Alban Way forms part of Route 61 of the National Cycle Network and also part of the Green Ring cycle and walking route around St Albans.
More information about the Alban Way, including a downloadable map of the route, is available on the Council's website.
A webcast of the meeting on 19 July and relevant agenda and papers can be viewed on the Council's website.
Councillor contact:
Cllr Frances Leonard, Environmental Portfolio Holder for St Albans City and District Council 
Tel: 01727 861860, Email: cllr.f.leonard@stalbans.gov.uk
Contact for the media:
Amanda Wilkinson, Senior Communications Officer, St Albans City and District Council
Tel: 01727 819317, E-mail: amanda.wilkinson@stalbans.gov.uk