Walking and cycling
Express Interest in an On-Street Locked Bicycle Hangar
Would you like to cycle more but don't have a place to store a bicycle because you live in a terraced house or a block of flats?
We are exploring the possibility of providing on-street locked bicycle cages (hangars) in areas where there is high demand.
Please register your interest using the contact form below. Please note that if installed there would be a charge to use the service. 
Before completing this form you will be asked to tick to confirm that you have read, understand and agree to the our privacy notice.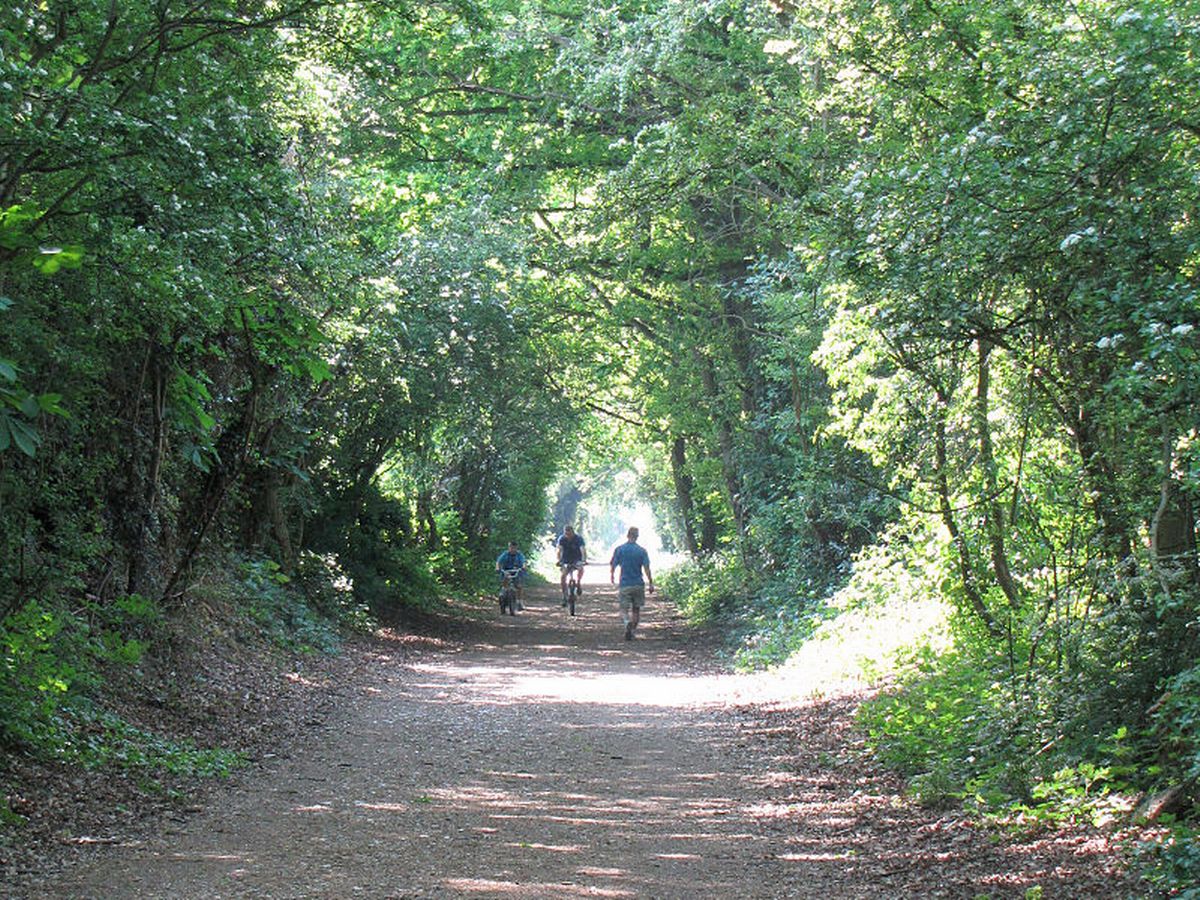 The Alban Way
The Alban Way is a trail of approximately 6.5 miles for cyclists and walkers along the former railway line between St Albans and Hatfield. It is an important link in the local sustainable transport network and forms part of Route 61 of the National Cycle Network.
It can be joined at several access points, including Highfield Park (Fleetville, St Albans), Ellenbrook Lane (Hatfield) along its length. Limited car parking at access points is available at the former London Road station in St Albans, the site of the Smallford station in Smallford Lane, and at the eastern end (where it meets the A1057 just off the Great North Road north of Hatfield Station).
The Alban Way does not just serve as a transport route for people, but also as a green corridor for plants and animals. Many bird, insect and mammal species can be found. If you look carefully you may be able to see the former railway platforms in the undergrowth.
Along the way there are several artworks which have been commissioned as part of St Albans District Council's public art strategy.
The project is supported by the Millennium Commission, National Cycle Network, Countryside Commission, St Albans City and District Council, Welwyn Hatfield Council, Herts County Council (Environment), Countryside Management Service, Groundwork Hertfordshire, Watling Chase Community Forest, RMC (St Albans Sand and Gravel Co. Ltd.) and the University of Hertfordshire.
Contact us or report a problem
Lee Valley Line
The Lea Valley Line, is a 2.2 km section stretch of disused railway which extends along the outskirts of Harpenden and follows the course of the former Hatfield, Luton and Dunstable railway. 
The majority of the route provides opportunity for off-road non-motorised travel, and is popular with walkers and cyclists. A small section of the route (approx. 380 linear meters) extends along the residential roads, Waveney Road and Hickling Way in Harpenden.
Sections of the route follow the Lea Valley Walk, a long-distance walking route running 80.5km, following the River Lea from Luton to London.
Contact us or report a problem
Nickey Line
The Nickey Line is a closed railway line that connects Hemel Hempstead, Redbourn and Harpenden. The line is now approximately 7.2 miles long, with about 1.4 miles at the Hemel Hempstead end having been lost to development.
The primary present-day function is a recreational route for pedestrians and cyclists, forming part of the Sustrans National Cycle Route 57 connecting Welwyn Garden City and Oxford as well as the Chiltern Cycleway.
The current route broadly follows the original position of the rail line, with the exception of minor repositioning around road junctions near to Redbourn and the removal of sections as part of the development of Hemel Hempstead new town.
Contact us or report a problem
St Albans Green Ring
St Albans Green Ring is a continuous walking and cycling route (approx. 9Km long) that encircles the city centre. The route primarily enhances existing cycling and walking routes and extends from Townsend in the north to Fleetville in the east, Sopwell in the south and into Verulam Estate to the west.
The objective of the Green Ring is to make cycling & walking a sensible first choice for journeys within the city, where previously a car would have been used. This will help reduce congestion, pollution and provide a valuable and easy way to get enough exercise. It is anticipated that the Green Ring will be used for both every day and leisure cycling.
At least 13 green spaces are connected by the Green Ring along with at least 9 child-related destinations, such as schools, as well as a variety of places of worship, heritage sites, retail centres and both city's railway stations.
The concept of the Green Ring originated in work undertaken by the District Council as part of the "City Vision" for St Albans in 2009.  This aspiration was used as the basis for a successful Local Sustainable Transport Fund (LSTF) bid for which St Albans City and District Council provided extensive input in partnership with Hertfordshire County Council.  The total LSTF allocation from the Department for Transport is £1,091,000.
Cycling
Due to increasing traffic congestion, it's often quicker to travel by bike. A journey of 1.5 miles for instance, takes about 10 mins by bike. There are several off-road cycle routes and safe cycle paths across St Albans for cyclists.  
A district-wide cycle map is available to help both new and experienced cyclists to plan their routes across the St Albans District. You can pick up your free copy from local libraries, cycle shops, Tourist Information Centre and at the Council offices. You can also ask to be sent a copy by emailing contactus@stalbans.gov.uk.
The map is also downloadable below. Simply use the move and zoom functions in your Adobe Acrobat Reader to view different areas of the map at larger scales. You can print specific sections by selecting 'Print Current View' and then selecting 'Fit to Printable Area' and 'Colour' in your print settings.