Revitalising the River Ver Project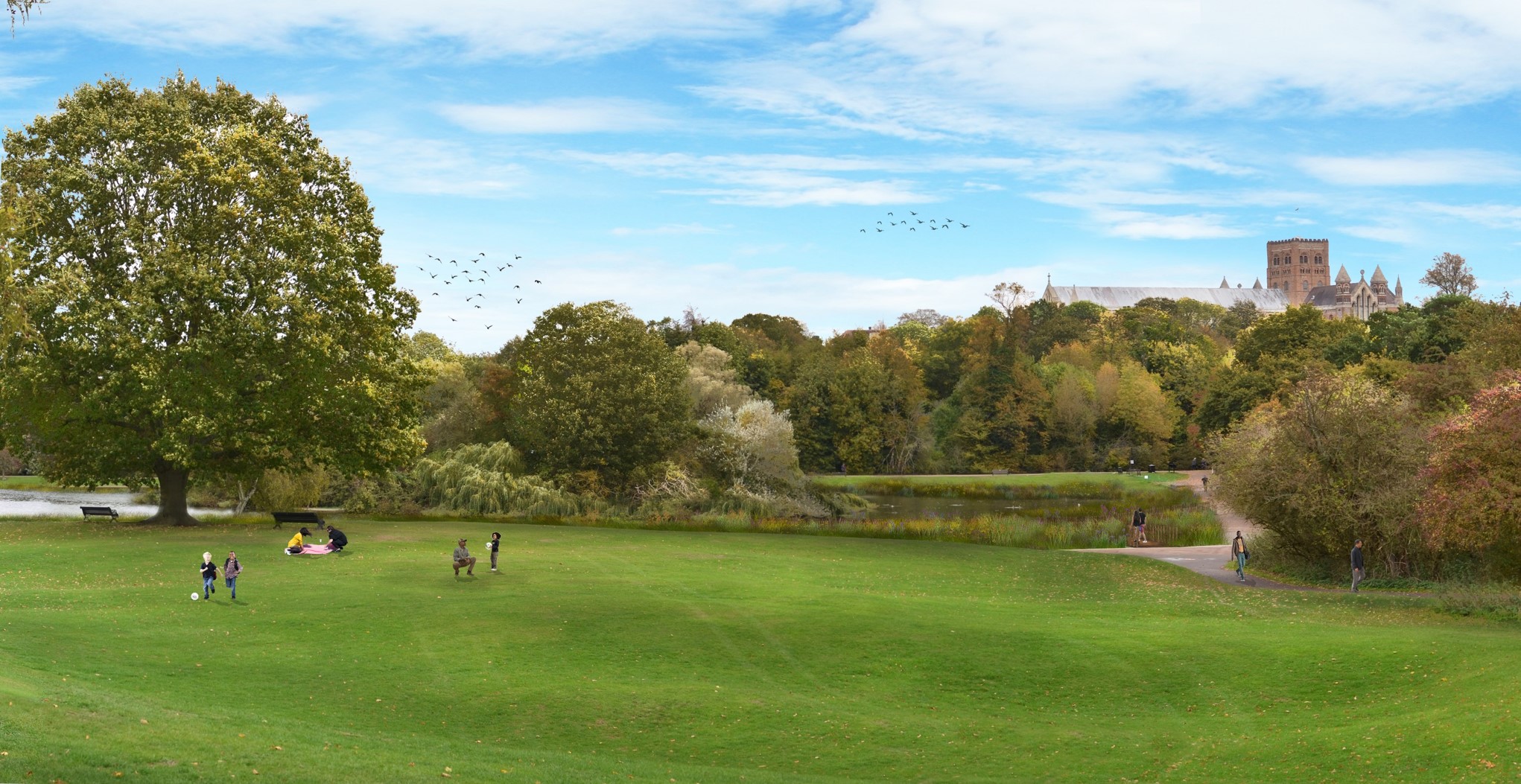 ​Update June 2023
This is a hugely complicated project with many conflicting constraints. As a result it is unfortunately taking longer than we would hope.  
Reach 1.  Verulamium Park, Bell Meadow and Lakes 
We are currently working with Historic England and the Planning Authorities to gain the necessary consents to enable the project.  Part of this is archaeological work in Bell Meadow which will happen during the summer of 2023.  This will include several test dig pits and we are hoping to learn how the river has been modified over the past 2000 years.  The results of these investigations will inform the design and improve our understanding of the river and floodplain at this location. 
We will provide updates on the work over the summer as it progresses.
Reach 2 and 3. Verulamium Park, Causeway up to Cottonmill Allotments   
We are pleased to be progressing with the Reach 2 & 3 stage of our project to restore the chalk river and improve the park for people and wildlife. 
The aim of this project is to:
Improve biodiversity in the river by introducing typical chalk stream plants to create natural processes and habitats in the channel, resulting in a clean gravel bed and a more natural, resilient river 
Improve the park landscape and increase biodiversity by creating valuable wetland habitats accessible by boardwalks allowing visitors to get closer to nature. 
Improve the paths and bridge to allow all to access the park. 
The detailed designs for the project are nearly complete and we will be engaging with key stakeholders and riparian owners soon to get their input on the designs. We plan to submit a planning application for the project in July 2023. 
We are confident that this project will be a success and will improve the park landscape, making it more attractive and inviting for visitors, while also increasing biodiversity and climate resilience.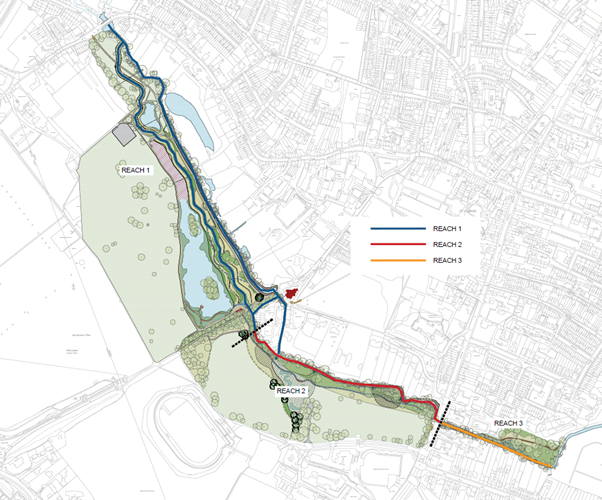 The River Ver
The River Ver in St Albans flows through Verulamium Park and the heart of the city. It is one of around only 200 chalk rivers in the entire world. 
Chalk rivers are fed from the chalk aquifer (the underground layer of rock saturated with groundwater). They are naturally crystal clear and support a huge diversity of habitats and wildlife. Their rarity and importance have led them to be described as 'England's Rainforest'. 
Unfortunately, like many chalk rivers, the River Ver has fallen into a bad state.  In St Albans, the river channel has been heavily modified over the years. The concrete banks mean it can't support the habitats it should. In places, the river channel has been moved to support industry such as mills.  This has led to an artificially over-wide, over-straight channel and sluggish flows. These alterations contribute to the gravel bed being smothered with a thick layer of silt.
 
The river is also unable to support the iconic chalk stream plants we would like to see. One reason is that the channel is also overshadowed by trees which prevents light reaching the river and allowing chalk river plants to thrive. 
Verulamium Park Lakes
Built in the 1930s, the iconic ornamental lakes of Verulamium Park are also in a bad way. They are far too large for the flow they receive and are clogged with silt. The large numbers of non-native Canada geese add to this issue as their droppings contribute to the poor water quality. These issues are especially bad in summer months when so many people come to enjoy coming to the park.
Mission statement & project objectives

Toggle accordion
Mission Statement
To deliver a publically supported, award-winning project and legacy on time and within budget through collaboration and efficient communication.
Our objectives
We will revitalise the water environment in Verulamium Park and build a legacy that St Albans residents and visitors will value, enjoy and benefit from. We will bring back a more natural chalk river, more resilient to climate change and better able to support iconic chalk stream biodiversity. We will restore the natural heritage of St Albans; creating more sustainable lakes and an improved park.
Outcomes and product
Collaboration and people
Aspirations

Delivered on time and within budget
Supported by the public and key stakeholders
Climate change resilient
Long term sustainability

Communicate our plans and celebrate our achievements
Realising shared benefits through strong collaboration and effective communication
Working together to realise funding opportunities
Meetings with a clear purpose that are timely and decisive
Strong decision making
Involving the right stakeholders at the right time

An award winning collaboration that leaves a long-term, positive legacy
Increased park visitor numbers & diversity
A natural chalk river with characteristic native wildlife and species in Verulamium Park
Revitalising Chalk Rivers

Toggle accordion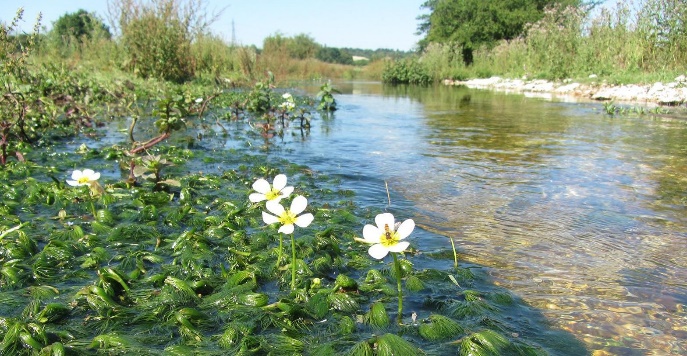 This project is part of Revitalising Chalk Rivers. Together, the Environment Agency, Affinity Water and other local partners are working to protect and restore our local chalk rivers. Numerous river restoration projects have been completed or planned. Alongside these projects we are reducing abstraction (pumping or removing water from the groundwater or a river) to improve flows in the river.
You can find out more about Revitalising Chalk Rivers here.
The River Ver is in the River Colne Catchment Area. You can find out more about how our partners are working together to protect and improve the water environment for everyone by visiting the Colne Catchment Partnership website here.
Save water

Toggle accordion
Using water efficiently will help ensure we all have enough water for our homes, to produce food, for products and services, and to protect our valuable natural environment. Abstraction of water can have a direct impact on chalk streams, and a large portion of water abstracted is used to meet the demand of the local population. In fact, Hertfordshire has some of the highest rates of water use per person in the country. Therefore, reducing your water use could directly benefit the chalk streams.
Many people are not aware that actions like tipping waste liquids down roadside drains, flushing wet wipes or washing up greasy pans in the sink directly harms wildlife and affects water quality by causing pollution in local rivers, lakes and the sea.
Here are ten simple tips you can follow to help reduce your personal water usage:
Ten Top Tips for Saving Water
Remember to turn off the tap while brushing your teeth – a running tap wastes approximately 6 litres of water per minute
Take shallower baths. Running your bath just an inch shorter than usual can save on average 5 litres of water
When you're finished in the bath, reuse your bathwater to water your houseplants or garden
Switch to a low-flow shower head. This will reduce your water consumption but still give you the feel of a normal shower
Use a shower timer to help reduce shower time. If everyone used a shower timer we would save enough water to supply 1 million homes every day
When washing up, use a plug or washing up bowl to limit the amount of water used rather than continuously running the tap.
Make sure the dishwasher is only run when it has a full load
Fill the kettle with only what is needed, this saves electricity too!
Use a watering can instead of a hosepipe when watering your garden
Install a water butt in your garden. You can use the collected water to water your garden or wash the car
Cllr Working Group

Toggle accordion
Cllr Working Group is a non-executive body. Its purpose is to provide guidance, assistance and support to the Chair of the Public Realm Committee and the project team on the subject of Revitalising the River Ver and the Lakes in Verulamium Park.
The Working Group meets as and when significant new information is available and when key decisions need to be discussed.
Revitalising the River Ver Working Group
FAQ's about the condition of the Lakes

Toggle accordion