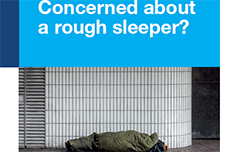 Councils gain £200,000 to fund rough sleeper projects
Funding of £200,000 to help rough sleepers in the St Albans District and a neighbouring area has been obtained from the Government.
St Albans City and District Council along with Dacorum Borough Council were awarded the money from the Rough Sleeping Initiative Fund for 2019/20.
They will use the cash to support homeless people who are living on the streets in the two local authority areas.
Some of the money will fund a Housing First project where rough sleepers will be placed in suitable accommodation. They will then be given intensive help to make major changes to their lifestyle.
The aim will be to move them towards securing a place of their own and a new start in life.
In addition, the money will help provide outreach workers who engage with rough sleepers on the streets to make them aware of the services on offer.
The initiatives fit with the St Albans Council's Homeless Strategy and Action Plan for 2016-21. This is a commitment to prevent homelessness in the District in both the short and long term.
Among the strategic priorities are early intervention to prevent homelessness and helping victims of domestic abuse as well as those with mental health issues. 
Karen Dragovic, the Council's Head of Housing, said:
We are very pleased that we have obtained these funds from our joint bid with Dacorum Borough Council. 

We have already held discussions with them about how best we can use this money to make a positive impact. The overarching aim is to get rough sleepers off the streets and help them towards new pathways.

We also work with charities, faith groups and other organisations as part of the St Albans Rough Sleepers Steering Group on these issues.

Those partner organisations include Open Door, Centre33 and Emmaus as well as Hightown Housing Association, the Cathedral and St Albans Community Mental Health Team.

Rough sleepers often have complex problems and a lot of work and effort goes into encouraging them to seek a new direction in life.
Among other recent initiatives, the Council has recently produced an information leaflet about how the public can help rough sleepers.
The guidance draws on the expertise and knowledge of Council officers and voluntary groups which are involved with the issue.
Headed, "Concerned about a rough sleeper?" it includes practical advice about what to do if you have seen a rough sleeper on the streets of St Albans.
Last year, the Council carried out an annual count of rough sleepers in the District on one night and estimated 11 people were sleeping rough.
It is required to obtain this figure every year and submit it to the Government. Figures for previous years were: 2017 – 5; 2016 – 13; 2015 – 19; and 2014 – 11. 
To find out more about the Council's help for rough sleepers and the homeless, please see: www.stalbans.gov.uk/housing-advice-and-homelessness.
To view the homelessness strategy, see: www.stalbans.gov.uk/Images/Homelessness%20Strategy%202016-2021_tcm15-35316.pdf (link content no longer available due to retirement of former website).
Useful web links: 
www.stalbans.gov.uk/housing-advice-and-homelessness
www.opendoorstalbans.org/
www.centre33.org
www.emmaus.org.uk/hertfordshire
www.streetlink.org.uk
Media contact:
John McJannet,
Principal Communications Officer,
St Albans City and District Council
Tel: 01727-296130
Email: john.mcjannet@stalbans.gov.uk