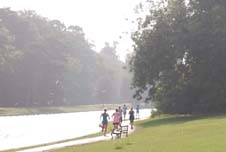 Plans to enhance Verulamium Park lakes
Residents in the St Albans District are to be kept up to date with ambitious plans to improve the River Ver and Verulamium Park's ornamental lakes.
A series of web pages dedicated to explaining the long-term project as it unfolds have been launched.
People interested in the scheme are encouraged to fill in a feedback form to put forward their own views and suggestions.
St Albans City and District Council which owns the park is working on the project with the Environment Agency, Affinity Water and Hertfordshire County Council's Countryside Management Service.
Its overarching aim is to improve the environmental conditions surrounding the Ver as it flows through Verulamium Park to Sopwell Mill Farm.
The area includes the park's artificial lakes which were built more than 80 years ago and suffer from poor water quality.
Over many decades, there has been a build up of thousands of tons of silt in the lake. This is due to a number of factors while the intake of fresh water from the Ver is irregular and slow.
The silt is unsightly, sparks algae blooms, gives off unpleasant smells and can produce bacteria harmful to birds.
Local consultants AECOM are carrying out a feasibility study into options to improve the river and lakes, the likely impacts and the costs involved. 
The web pages give information on the project's objectives, progress and the area that may be affected. There is also a section answering the most frequently asked questions.
It is available on: www.stalbans.gov.uk/revitalising-river-ver.
Councillor Daniel Chichester-Miles, Portfolio Holder for the Environment, said: "Verulamium Park is one of the District's flagship attractions and quite understandably there is great public concern about the state of the lakes.
"We have taken some short-term measures to improve conditions, such as two major operations to remove more than 100 tons of silt. 
"However, we need a long-term solution that deals with the underlying causes of the problem and for some time now we have been working on that with a number of partners, including the Environment Agency. We are also looking at how to secure the necessary funding.
"This is a complex and challenging task and it is vital that we engage with park users and residents during every step of the process to explain what we are doing and gain their support.
"The web pages will help us do so and I urge everyone with an interest in Verulamium Park to use it to keep informed of what is happening and provide us with valuable feedback."
Councillor contact:
Cllr Daniel Chichester-Miles, Portfolio Holder for the Environment for St Albans City and District Council
Tel: 01727 819281
Email: cllr.d.chichester-miles@stalbans.gov.uk 
Contact for the media:
John McJannet, Principal Communications Officer, St Albans City & District Council 
Tel: 01727 296130 
Email: john.mcjannet@stalbans.gov.uk
Note:
The project to enhance the River Ver is part of the Chalk Streams Partnership which aims to protect and restore Hertfordshire's internationally-rare chalk streams. The Environment Agency and Affinity Water are working to reduce abstraction for drinking water at 11 pumping stations on 6 chalk streams. Alongside this, they are working with partners to deliver a programme of river restoration projects which will bring benefits for people and wildlife.