Revitalising the River Ver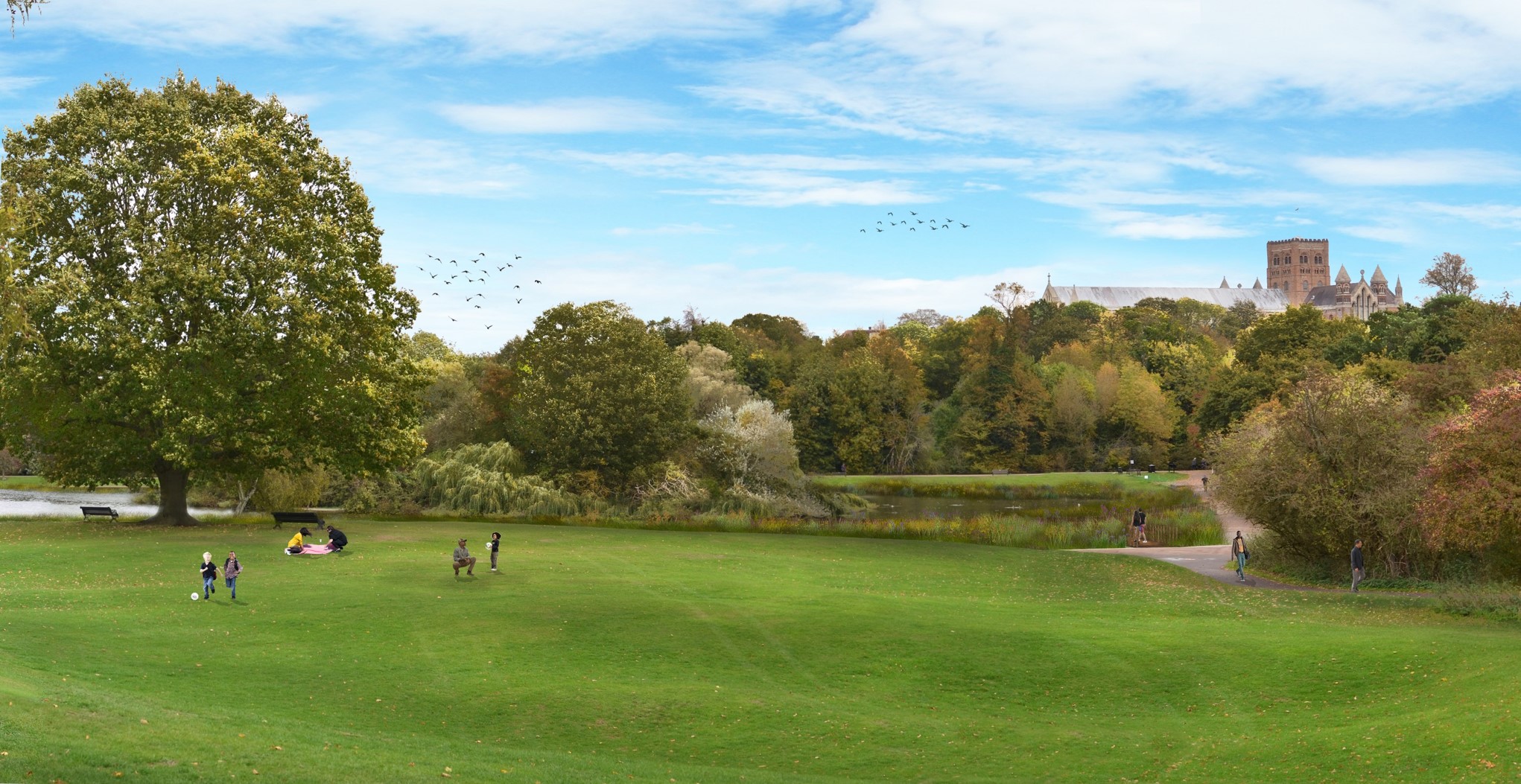 The River Ver
The River Ver in St Albans flows through Verulamium Park and the heart of the city. It is one of around only 200 chalk rivers in the entire world. 
Chalk rivers are fed from the chalk aquifer (the underground layer of rock saturated with groundwater). They are naturally crystal clear and support a huge diversity of habitats and wildlife. Their rarity and importance have led them to be described as 'England's Rainforest'. 
Unfortunately, like many chalk rivers, the River Ver has fallen into a bad state.  In St Albans, the river channel has been heavily modified over the years. The concrete banks mean it can't support the habitats it should. In places, the river channel has been moved to support industry such as mills.  This has led to an artificially over-wide, over-straight channel and sluggish flows. These alterations contribute to the gravel bed being smothered with a thick layer of silt.
 
The river is also unable to support the iconic chalk stream plants we would like to see. One reason is that the channel is also overshadowed by trees which prevents light reaching the river and allowing chalk river plants to thrive. 
Verulamium Park Lakes
Built in the 1930s, the iconic ornamental lakes of Verulamium Park are also in a bad way. They are far too large for the flow they receive and are clogged with silt. The large numbers of non-native Canada geese add to this issue as their droppings contribute to the poor water quality. These issues are especially bad in summer months when so many people come to enjoy coming to the park.
 
Our Plans and Feasibility Study

Toggle accordion
We are working together to improve both the River Ver and the lakes.
We want a natural environment that St Albans can be proud of.
Our plans work with nature to reintroduce natural processes in the river and lakes. We will return the river to a more natural course and introduce natural meanders and habitats on the banks of the river which will result in clean gravel bed.
Meanwhile, we want to transform the lakes into a wildlife haven with native plants surrounding the lakes and new wetland areas providing a home for diverse wildlife.
This project is a once in a lifetime opportunity to improve the River Ver for generations to come. You can find out more about the project plans in the links below

Project Progress

Toggle accordion
To date
| Date | Description |
| --- | --- |
| March 2019 | Feasibility study released |
| April 2019 | Planning pre-application submitted |
| May 2019 | Project team took park in Sustainable St Albans |
| May 2019 | New phasing of project developed and agreed. |
| June 2019 to present | Pre-contract negotiations started between Jacobs and Environment Agency to develop detailed designs |
| July 2019 | Ecological surveys carried out |
| June – August 2019 | Engagement with Prospect Road residents conducted |
| June – Oct 2019 | Delivery of the work for the Holywell Hill Project delivery has been put out to tender |
| July 2019 | Launched a Junior River Wardens scheme |
| August – September 2019 | Survey on all trees along the course of the project |
| October 2019 | An Environmental Impact Assessment (EIA) screening opinion sought from the planning department. Planning department have replied to say an Environmental Statement is required |
| October 2019 | Cross Party Working Group Meeting |
| July 2020 | Jacobs appointed by Environment Agency as contractor to develop detailed designs |
| 18th September 2020 | Initial design workshop |
| 13th October 2020 | Cross Party Working Group |
| November 2020 | Meeting with HCC on Right of Way and bridges; meeting with SADC on landscape changes; programme updated; flow assessment; development of 3D model; development of Basis of Design; kick off with ESE contractor |
| December 2020 | Hydraulic model update - including low flow & climate change; Basis of Design (BoD) work begins |
| January 2021 | Draft Basis of Design (BoD) completed and shared with key stakeholders for review; design updates; discussed new channel feasibility with relevant teams |
| February 2021 | Model substantially complete - this will be used to develop the design including low flow & climate change conditions; scoping for the Site Investigation is ongoing; Landscape design has progressed; risk workshop held; initial engagement planning for outline design consultation |
Forward plan
Date
Description
April 2021
Outline design to be completed
May /June 2021
Stakeholder engagement on proposed designs
March-Sep 2021

Ground Investigations and Surveys

The Ground Investigation is planned for April/May 2021. Environmental Surveys will be first undertaken during April/May 2021 with repeat visits required throughout the summer

December 2021
Planning application submitted
December 2021 - March 2022

Public consultation on planning application

April 2022

T

h

e De

t

ermi

n

ation Da

t

e, Pl

a

nning A

p

plicati

o

n is

t

o

b

e r

e

port

e

d to c

o

mmi

tt

ee or c

o

ns

id

er

e

d

u

n

d

er dele

g

at

e

d

p

o

w

ers by SADC
May 2022

Detailed Design and Full Business Case (FBC) completed
Phase 1 – Verulamium Park and Holywell Hill

Toggle accordion
The project team are currently working on Phase 1 of the project which will see improvement work carried out to the River and Lakes in Verulamium Park and the River between Holywell Hill up to Cottonmill Lane Allotment Site. It is anticipated that work will start in 2020.
Phase 2 – Cottonmill Lane Allotments to Sopwell Mill

Toggle accordion
Phase 2 of the project will see improvement work carried out to the River Ver between Cottonmill Lane Allotment Site and just past the Alban Way.
Junior River Wardens Project

Toggle accordion
To help boost the health of the river, Groundwork is working with schools and youth groups in St Albans to train their pupils as Junior River Wardens (JRW). As JRWs, children will learn how to undertake river monitoring, looking for a variety of geographical changes, conducting chemical tests, and spotting wildlife. They will learn how the measurements they take impact the river, what the changes in measurements tells us about the river, and what they can do to help the readings improve. Monitoring is taking place this autumn with repeat visits in spring 2020.
The schools involved are:
Maple Primary
Fleetville Junior School
Aboyne Lodge School
St. Peter's Primary School
4th St. Albans Scout group
If you are a teacher, parent or student in St Albans and would like your school to get involved, please get in touch
Revitalising Chalk Rivers

Toggle accordion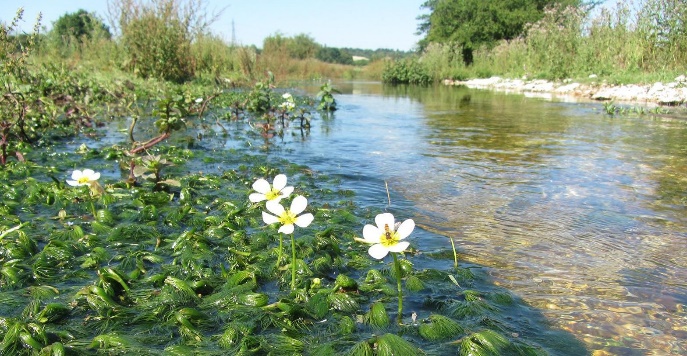 This project is part of Revitalising Chalk Rivers. Together, the Environment Agency, Affinity Water and other local partners are working to protect and restore our local chalk rivers. Numerous river restoration projects have been completed or planned. Alongside these projects we are reducing abstraction (pumping or removing water from the groundwater or a river) to improve flows in the river.
You can find out more about Revitalising Chalk Rivers here.
The River Ver is in the River Colne Catchment Area. You can find out more about how our partners are working together to protect and improve the water environment for everyone by visiting the Colne Catchment Partnership website here.
Save water

Toggle accordion
Using water efficiently will help ensure we all have enough water for our homes, to produce food, for products and services, and to protect our valuable natural environment. Abstraction of water can have a direct impact on chalk streams, and a large portion of water abstracted is used to meet the demand of the local population. In fact, Hertfordshire has some of the highest rates of water use per person in the country. Therefore, reducing your water use could directly benefit the chalk streams.
Many people are not aware that actions like tipping waste liquids down roadside drains, flushing wet wipes or washing up greasy pans in the sink directly harms wildlife and affects water quality by causing pollution in local rivers, lakes and the sea.

Here are ten simple tips you can follow to help reduce your personal water usage:

Ten Top Tips for Saving Water
Remember to turn off the tap while brushing your teeth – a running tap wastes approximately 6 litres of water per minute
Take shallower baths. Running your bath just an inch shorter than usual can save on average 5 litres of water
When you're finished in the bath, reuse your bathwater to water your houseplants or garden
Switch to a low-flow shower head. This will reduce your water consumption but still give you the feel of a normal shower
Use a shower timer to help reduce shower time. If everyone used a shower timer we would save enough water to supply 1 million homes every day
When washing up, use a plug or washing up bowl to limit the amount of water used rather than continuously running the tap.
Make sure the dishwasher is only run when it has a full load
Fill the kettle with only what is needed, this saves electricity too!
Use a watering can instead of a hosepipe when watering your garden
Install a water butt in your garden. You can use the collected water to water your garden or wash the car
Cllr Working Group

Toggle accordion