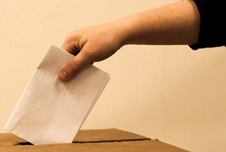 Postal votes issued for EU elections
Ballot papers have been sent out to postal voters in the St Albans District for this month's elections to the European Parliament.
Around 17,500 packs have been issued for the election on Thursday 23 May.
Mike Lovelady, the Electoral Registration Officer, said:
Postal voters should keep an eye out for the packs which are being delivered to them now.

They should follow the instructions about how to vote, including putting their date of birth and signature on the postal voting statement. This statement is kept separately from the ballot paper, so their vote is always kept secret.
Completed ballot papers and postal vote statements should be placed in the pre-paid addressed envelope and returned to the District Council by 10pm on election day.
The address is Electoral Registration Officer, St Albans City and District Council, Civic Centre, St Peter's Street, St Albans, Herts, AL1 3JE.
Residents unable to get to a polling station can also apply for a proxy vote by 5pm on Wednesday 15 May or an emergency proxy vote up until 5pm on election day.
A proxy vote allows someone you trust to vote on your behalf. You must give a reason why you are unable to attend the polling station such as illness or a work commitment.
Forms to apply for a proxy vote are available from the Council's elections office or at the Electoral Commission's website www.yourvotematters.co.uk.
The Council's elections team can be contacted on 01727 819294 or elections@stalbans.gov.uk.
Voters in the St Albans District are part of the European Parliament's Eastern England Region which will return seven MEPs by a party-list system of proportional representation.
For more information including the candidate list, please see: www.stalbans.gov.uk/council-and-democracy/elections/EU2019/default.aspx.
Media contact: 
John McJannet,
Principal Communications Officer,
St Albans City and District Council.
Tel: 01727-296130 
E-mail: john.mcjannet@stalbans.gov.uk
---
Note:
To be eligible to vote at the EU elections in the UK you must be registered and 18 years of age or over on polling day; a British citizen, qualifying Commonwealth citizen, or citizen of the EU; resident in the UK; a UK citizen living abroad who has been registered to vote in the UK in the last 15 years; and not subject to any legal incapacity to vote.